---
You all liked our last suggestions so much, that we've put together a list of ten more places within an hour of Ballina – a great base for exploring more than just North Mayo! We're blessed in the West to live near some of the most splendid attractions (and numerous hidden gems) that you'll find in Ireland.
So if you visit and stay with us here or anywhere in North Mayo or Enniscrone, you're sure to discover lots of new places, all within a short drive.
---
1. Murrisk Abbey (1 hour 5 minutes from Ballina)
Murrisk Abbey is located on the shores of Clew Bay and in the shadow of Croagh Patrick. The abbey was founded about 1456 by Augustinian friars. The friars were driven out in the late 16th century during the reign of Queen Elizabeth I.
The abbey has connections with pirate queen Gráinne Mhaol (Grace O'Malley) – her ancestors are reputed to have given the land for the abbey.
Look out for the carved human heads on the walls outside …
---
2. Croagh Patrick (1 hour from Ballina)
Ireland's Holy Mountain (also known as 'The Reek') is located an hour's drive from Ballina. Croagh Patrick (764 metres) was a place of pagan pilgrimage long before St. Patrick arrived in Ireland. It became an important Irish Christian pilgrimage after the saint's reputed 40 day Lenten ritual of fasting and penance here.
Climbing the mountain is a challenge, but the views are worth it – on a clear day, it offers breath-taking panoramic views of the hundreds of tiny drumlin islands in Clew Bay.
The last Sunday in July is known as 'Reek Sunday' or 'Garland Sunday' where thousands of pilgrims set out (some before dawn) to climb 'the reek'. Mass is celebrated on this Sunday by the Archbishop of Tuam in the Chapel Teampall Phádraig. Due to Covid-19 however, Reek Sunday will not go ahead in 2020.
At present Croagh Patrick is closed for health and safety reasons. We'll let you know when it reopens. But it's still worth the spin to this gorgeously scenic area – check out Destination Westport for more information.
---
3. Knock Shrine (40 minutes from Ballina)
The Sanctuary of Our Lady of Knock or Knock Shrine as it is more commonly known, is Ireland's National Marian Shrine. It is located in the village of Knock just 15 minutes from Ireland West Airport.
On a wet dark day in August 1879 15 villagers are said to have witnessed the Apparition of The Virgin Mary, St. Joseph and St. John the Evangelist. Behind them was a plain altar. On the altar was a cross and a lamb (a symbol of Jesus) with adoring angels. From 1880 onwards the Shrine has become an international place of pilgrimage.
In 1979 Pope John Paul II paid a visit to the Shrine to mark the Centenary of the Apparition. In 1993 Mother Teresa visited the Shrine. Most recently in August 2018 Pope Francis visited Knock as part of a visit to Ireland for the World Meeting of Families.
Please note that at present capacity is limited to gatherings of 50 people indoors and a strict queuing system is in place for Mass and Confessions, on a first come, first served basis.
---
4. The village of Cong (1 hour 10 minutes from Ballina)
The village of Cong is a small village on the Mayo/Galway border nestled between Lough Corrib and Lough Mask. Cong is most famous as the filming location of the Oscar winning The Quiet Man (1952) starring John Wayne, Maureen O'Hara and Barry Fitzgerald. Filming was done on the grounds of Ashford Castle and within the village, much of which has remained unchanged.
There is a short Nature Loop walk around the village that takes less about a half an hour, and also worth exploring are the beautiful Cong Abbey, and the woodland tracks in Cong Woods where you'll passpoints of interest such as the Priest's House, the Guinness Tower and several caves, including Pigeon Hole Cave. A steep flight of limestone steps leads down to the mouth of the cave, into a large chasm with a subterranean stream running through.
---
5. Keash Caves (58 minutes from Ballina)
This recommendation comes from our friend Val in Sligo Hub. The Caves of Kesh or the Keash Caves are a series of 16 limestone caves located near the village of Keash, and the views from these curious caves are spectacular!
Archaeological investigations discovered bones from animals that stalked Ireland towards the end of the Ice Age with evidence of hares, brown bear, red deer, Arctic lemming and wolves all dating to more than 12,000 years ago.
Read Val's post on the Caves of Keash
As with any geological feature like this, a rich body of folklore surrounds the caves, in which they are seen 'Otherworldly' places, home to all sorts of supernatural individuals.
Map link to the Caves of Keash
---
6. Knocknarea (50 minutes from Ballina)
Knocknarea (320 metres) after Benbulbin is one of Sligo's most famous geographic landmarks. A large cairn can found at the summit of Knocknarea.
Legend states that the warrior Queen Maeve of Connacht is buried upright in the cairn facing her arch enemies in Ulster. If you're reading this in Ulster, we love you guys.
Knocknarea can be climbed via two routes – via the new Queen Maeve Trail, which starts across the road from Sligo Rugby Club, or from the car park at Primrose Grange.
Did you know? On a clear day Knocknarea and Queen Maeve's Cairn can be seen from Rathlacken, Co. Mayo.
Map link to Knocknarea starting point 1 (Rugby Club) and starting point 2 (Primrose Grange)
---
7. Streedagh Beach (1 hour 10 minutes from Ballina)
Streedagh Beach in Sligo was a hidden gem of the Wild Atlantic Way until a few weeks ago when it burst into the public domain. Why?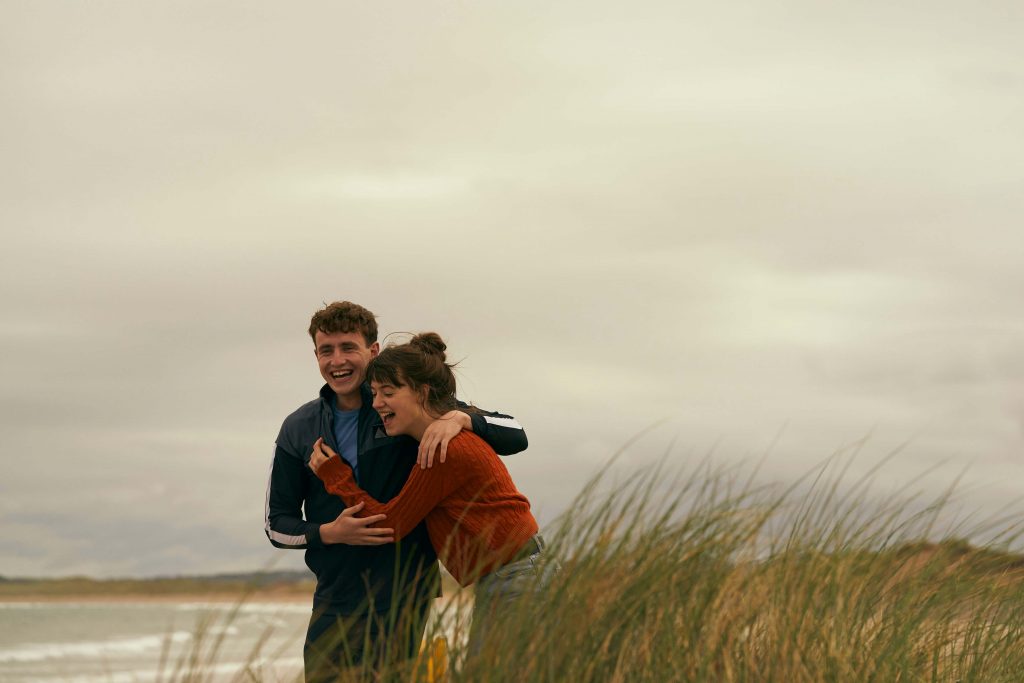 The beautiful 3km strand was a filming location of the Hulu/BBC adaption of Castlebar author Sally Rooney's 'Normal People'. In Episode two of 'Normal People', Marianne and Connell (and his chain!) pay a romantic visit to a picturesque beach in Sligo – Streedagh!
In 1588, a little before Connell and Marianne's time, three ships belonging to the Spanish Armada were wrecked on Streedagh Beach.
---
8. Glosh Tower (1 hour 15 minutes from Ballina)
Tarmon Hill Signal Station or Glosh Tower as it more commonly known is located on Termon Hill Eachléim in the Barony of Erris, right at the bottom of the gorgeously scenic Mullet/Erris Peninsula.
Glosh Tower is one of 82 Napoleonic Towers built between 1801-06 around the coast of Ireland. The British built them in the aftermath of the 1798 rebellion, in fear of another French invasion.
Glosh Tower is the best preserved example of a Signal Station in County Mayo.
Of course, while you're there, you really should take some time to explore Erris – check out www.visitbelmullet.ie for some inspiration, or read our Top 10 Things to Do in Erris post.
---
9. Hennigan's Heritage Centre (30 minutes from Ballina)
An authentic and fascinating, interactive Centre located in Killaser near Swinford. The purpose of Hennigan's Heritage Centre is to preserve and showcase the heritage of life in Mayo, from farming, to the house and home, to jobs and work, to the celebration of life and death.
At the heart of the heritage centre lies beautifully preserved thatched cottage built in the 1870's where the Hennigan family lived until 1970.
Hennigan's Heritage Centre is open. Call Tom on (+353) 087 2491402 to book.
Map link to Hennigan's Heritage Centre
---
10. Moore Hall (53 minutes from Ballina)
Moore Hall is situated on the shores of Lough Carra in Southwest Mayo 2 miles from the village of Carnacon. It was the home of the Moore family and built between 1792 and 1795. Moore Hall was burnt down on 1st February 1923 during the Irish Civil War.
Moore Hall is home to a large population of Lesser Horseshoe bats – a protected species – to to the constant temperature of the vaulted basement.
There is no access to the house but there is a lovely forest walk.
---
So there you have it, 10 more places within an hour's drive of Ballina. Base yourself in Ballina, County Mayo and explore what counties Mayo and Sligo have to offer. And don't forget to return home in time for tea!
Read Part I
Read Part III
---
#MakeABreakForMayo
#LoveBallina