---
Life can be hectic at times. If 2020 has taught us anything, it's that it's so important to take some time from the busy schedule and re-focus on what is important in life … and that includes spending quality time with family and loved ones!
A family break is the perfect opportunity to strengthen relationships and reconnect. North Mayo is the ideal location for a family break. With our wide open spaces, beautiful scenery and heaps of things to see and do, here are just some suggestions and recommendations for a family break in Mayo North.
---
Friday
After a long week in the office pack up the family and some luggage (you're heading to the west of Ireland so don't forget a raincoat) and head for Ballina on a Friday evening. If you're looking for and adventure why not hop on Bus Éireann or travel with Irish Rail. Once you reach Ballina head for your hotel. Ballina has plenty of hotels and accommodation to choose from with some of the best award winning accommodation in the West of Ireland. The Twin Trees Hotel and Great National Hotel Ballina both pools and kids clubs, or for different experience, a stay in one of the self-catering lodges in Mount Falcon Estate with its beautiful grounds and range of activities is a great option. Belleek Park Caravan and Camping offers a secure site for motor-home parking as well as self-contained self-catering accommodation.
Once you've settled into your room(s) why not enjoy a late dinner in the hotel restaurant? If the kitchen is closed there are a number of family friendly restaurants takeaways such as The Junction located on Tone Street, The Loft on Pearse Street. or Supermac's on Pearse Street. There are a number of taxi services available in Ballina, just ask at reception.
Did you know Ballina is a Purple Flag town? The Purple flag is awarded to towns across the United Kingdom and Ireland which have demonstrated to have a safe evening and night-time economy (ENTE) so you'll be in safe hands.
---
Saturday
Start of your Saturday morning with breakfast at your hotel. If you're a coffee lover we suggest you head on over to Dave's Deli and Coffee Shack in the SMA Arcade on O'Rahilly Street. Dave's Deli offer a specially selected menu of gourmet coffees, locally sourced food and an atmosphere that is cozy, welcoming and personal. This is a café to savour and the pancakes are to die for! Here you can enjoy wholesome healthy food with freshly sourced local ingredients, whether to take away or sit in, and tantalize your taste buds with varieties of coffee from around the world.
A trip to The Jackie Clarke Collection on Pearse Street is a must for anyone visiting Ballina. The Jackie Clarke is the single most important private collection of Irish history material in public hands, comprising over 100,000 items spanning 400 years. The Collection comprises an eclectic mixture of artifacts, proclamations, posters, political cartoons, rare books etc associated with Theobald Wolfe Tone, Michael Collins, Michael Davitt and O'Donovan Rossa. It also contains, personal items from Leaders of the 1916 Rising. If your young companions are not interested in museums the beautiful Walled Garden is a great place to explore.The Jackie Clarke Collection is open Tuesday to Saturday, 10am – 5pm and admission is FREE.
Once you're done head west down the R314 to Ballycastle, home of the majestic Downpatrick Head, to witness for yourself the breathtaking Dún Briste sea stack and Poll na Seantine blowhole. Did you know that Downpatrick Head is one of fifteen Signature Discovery Points along the Wild Atlantic Way? If you're lucky you'll be able to get a snack to eat from Tea By The Sea (our personal favourite is the curry chips) and if you're extremely lucky Patsy may just play a tune (or two) for you on his guitar. Only the best hospitality in North Mayo!
Foraging is the best family activity to experience the great outdoors. Denis Quinn of Wild Atlantic Cultural Tours based in historic Killala, is a expert in marine ecology. Book a tour (family of four) for a foraging experience on Ross Strand. Make sure to find out when is Denis available as tours are dependent on the tide.
Head back to Ballina for dinner in Dillon's Bar and Restaurant. Tucked away from the hustle and bustle of the town, you'll find the atmospheric Dillons courtyard an ideal place in which to chill out after a busy day. Or if you're looking for beautiful views, Crockets on the Quay is the perfect location to watch the River Moy meander by!
---
Sunday
The leisure facilities at all Ballina hotels are some of the best in the West of Ireland. If you're in the mood to relax we encourage you to avail of the services. If you're an exercise junkie, shake off the cobwebs with a cycle through Belleek Woods with Rachel's Irish Adventures, and just take a stroll and explore the Fairy Trail. If water-sports are your hobby why not try your hand at Stand-Up Paddling with Harbour SUP 'n' Sail?
If you fancy a gentle stroll explore The Ballina Bench Trail. Why not take some time to enjoy an ice-cream along the way!
---
Afterwards
So you've experienced North Mayo but only a small portion of what we have to offer. There's so much to explore. You could return to North Mayo to explore The Seven Wonders of Mayo North or Six Millennia worth of history in The Céide Coast. The list is endless. There's something for everyone….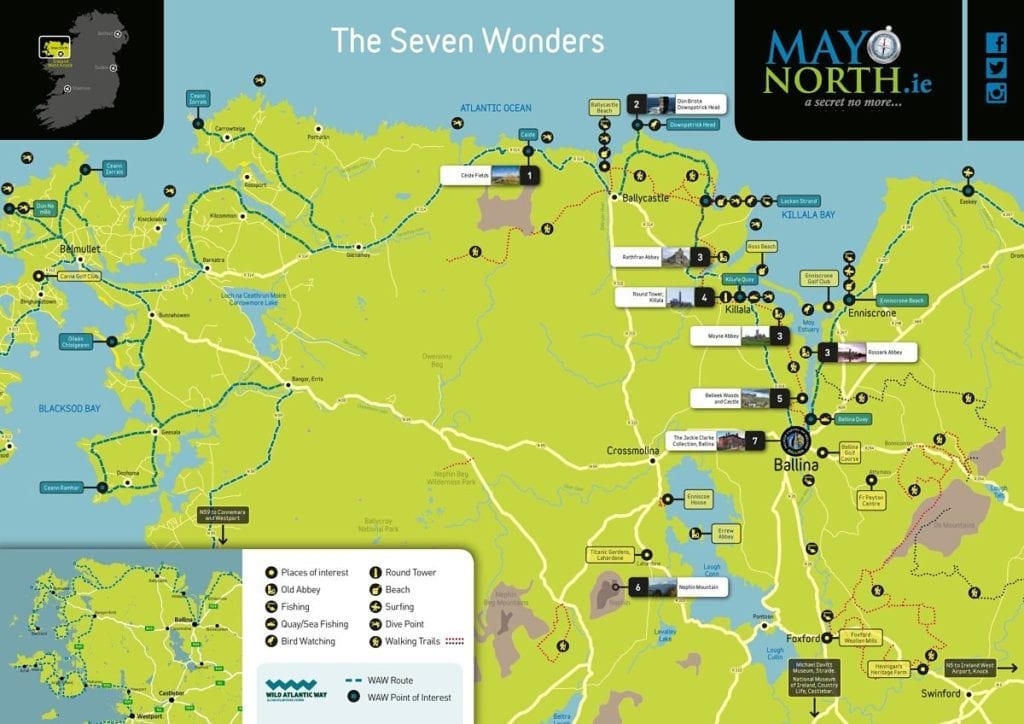 We hope to see you soon...