---
As the sunny weather disappears for another year and the Autumn leaves start to fall, it's still a great time to plan a holiday at home, or explore the many cultural and heritage attractions Mayo and Sligo have to offer. Below is a list of some Autumn experiences in Mayo and Sligo, all within about an hour's drive of Ballina. Happy exploring!
With thanks to Fáilte Ireland.
Achill Experience Aquarium & Visitor Centre
The Achill Experience, Aquarium and Visitor Centre is Mayo's first and only aquarium! Fun for everyone, the Achill Experience is an aquarium visit like no other. Discover their local and tropical fishy friends (including Nemo and Dory!) in our 16-tank aquarium. Through our knowledgeable and passionate aquarium guides, you will meet all their exciting sea creatures including Smurfette, Sapphire, Rusty and Charlie the rare lobsters and Buddy the very friendly baby shark.
Experience Achill's rich and fascinating history in our Visitor Centre through our 18 history boards, replica Boley House(modelled after the Deserted Village houses), the recycled Basking Shark and our audiovisual room. Learn about the Kirkintilloch Tragedy, the history of the Greenway, the special relationship between Achill and American artist Robert Henri and lots more as you explore the stories of Achill's past.
Find the perfect souvenir to remind you of your time in Achill in our gift shop, now serving delicious cups of Cosmic Coffee.
Pre-book your tickets online: www.achillexperience.ie
---
Blacksod Lighthouse
Whether you are visiting County Mayo on staycation, reconnecting with family after lockdown or looking for an interesting day trip, there is nowhere in Ireland quite like the Mullet Peninsula. And adding to the attractions and amenities already available, they are delighted to announce that this Autumn Blacksod Lighthouse is open to visitors. Step inside the lighthouse and immerse yourself in the history of this stout, castellated building. See how the lighthouse keepers of the past lived and worked when times were tougher and communications more challenging on this remote rocky outcrop.
Lighthouse keeping was an arduous occupation with many tasks and responsibilities
involved. Lighthouse attendants Fergus and Bill are on hand to answer your questions or regale you with tales of local maritime history. Learn about the other lighthouses of Erris, understand how the keepers of Blacksod Lighthouse changed the course of World War 2 and see the artifacts once used to keep the iconic light in sequence and the deep bay safe for all who navigated her. In the lantern room, observe the magnificent Fresnel lens which has been in operation for over 150 years.
Pre-book your tickets on our website: www.Visitblacksodlighthouse.ie
---
Old Irish Goat Centre & Sanctuary
Visitors to the Old Irish Goat Visitor Centre in Co. Mayo can engage with the charismatic Old Irish Goat. Learn about the history of the breed, which dates to the Neolithic, and conservation efforts by the Old Irish Goat Society to save the enigmatic goat from extinction and meet the goats in our very own sanctuary. Visitors can also browse unique handmade gifts produced by Mayo crafters and artists, in the Gift of Hands craft shop.
A Christmas shop opens mid-November and runs until mid-December.
To find out more visit oldirishgoat.ie
---
National Museum of Ireland – Country Life
Located just outside the town of Castlebar, the charming country estate of Turlough Park is home to the National Museum of Ireland – Country Life. A striking contemporary exhibition gallery juts out over an ornamental lake and formal Victorian style terrace lawns. The award-winning museum houses Ireland's National Folklife Collection and takes visitors back in time to discover what country life was like between 1850 and 1950. Exhibits across four floors include original artefacts and displays, captivating archival video footage and interactive screens.
Learn about the lives of our very recent ancestors with eye catching displays including handcrafted harvest knots and baskets, spinning wheels and boats, traditional clothing, the hand operated machinery many grandparents used and even a life size blacksmith's forge. Set on 40 acres of stunningparkland, there's lots to discover with woodland trails, outdoor art, a Gothic revival mansion, an adventure playground, and a 10k greenway to nearby Castlebar. There is also a café and gift shop on site. Best of all, admission is free.
For more information visit www.museum.ie
---
Jackie Clarke Collection
The Jackie Clarke Collection in Ballina County Mayo displays a collection of historic material spanning 400 years of Irish history all collected by one man, Jackie Clarke (1927-2000). It comprises of many rare and important books, manuscripts, photographs, letters, newspapers, and more, with items relating to notable figures such as Theobald Wolfe Tone, P.H. Pearse, and Michael Collins. Housed in the magnificently refurbished Old Provincial Bank on Pearse Street in the heart of Ballina, the Jackie Clarke Collection and its heritage garden are a must see for any visitor interested in the story of Ireland.
Admission is free and the collection is currently open Tuesday to Saturday from 12pm to 5pm.
For more information visit www.clarkecollection.ie
---
Knock Museum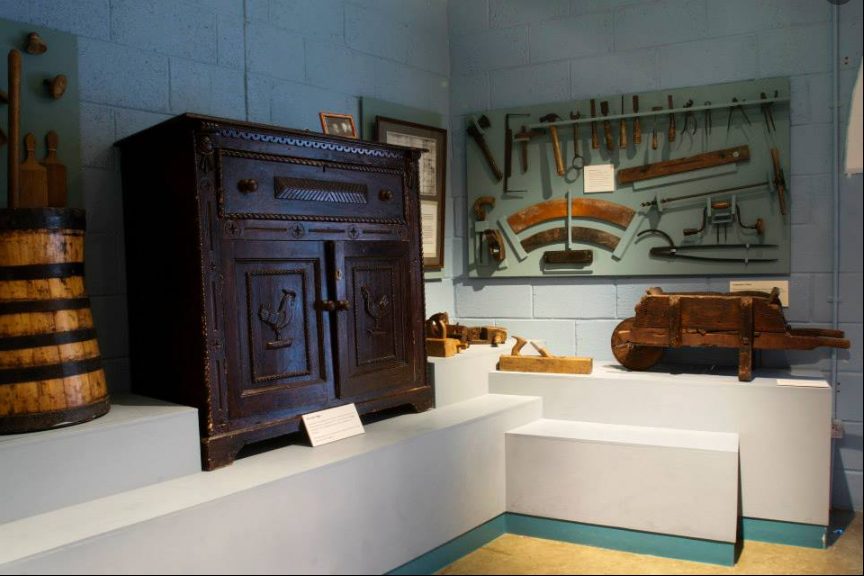 Since the miraculous Apparition in August 1879, pilgrims and visitors have come here to explore thisunique Shrine with its rich and engaging history. From the intimate atmosphere of the Apparition Chapel to the expansive theatre of the iconic Basilica, Knock Shrine is a place of sanctuary and sacredness. With its beautiful
grounds and gardens, fascinating museum and a unique collection of artworks throughout, Knock Shrine is a must see destination in the West of Ireland. Situated in the small village of Knock, the Shrine has been honoured with visits from Pope John Paul II in 1979, Mother Teresa of Calcutta in 1993 and Pope Francis in 2018. Approx. 1.5 millionpilgrims and visitors make their way here every year.

Guided tours of the Shrine grounds and museum, led by experienced local guides who share their unique insights and stories, bring the visitor on an intriguing journey tracing the development of Knock from its humble origins in August 1879 up to the present day. There are also Audio Guides available. Café Le Cheile, adjacent to Knock Museum, is the perfect vantage point for viewing the beautifully landscaped gardens and grounds of Knock Shrine. Serving a wide range of delicious food, sourced locally and cooked on the premises, Café Le Chéile is lovely place to relax and unwind and meet fellow pilgrims and tourists. Our guides love to chat further with visitors over a coffee after tours!
For groups who would like to stay overnight, Knock House Hotel is adjacent to the Shrine and is a comfortable and stylish hotel with excellent cuisine. In addition, the hotel has 6 wheelchair accessible rooms and is noted for its excellent facilities for those with mobility needs.
To find out more visit www.knockshrine.ie
---
Michael Davitt Museum
Michael Davitt is Ireland's greatest patriot and the most influential international Irishman of the 19th Century. The Museum is dedicated to the life and legacy of this pre-eminent social activist and global reformer. The Museum collection is housed in the magnificently restored Pre-Penal Church in the picturesque village of Straide, County Mayo. The exhibition is enhanced by an audio-visual presentation and brought to life by the museum's award winning tour guides. The museum has developed a reputation as a centre of excellence and has attained full accreditation under the Museum Standards Programme for Ireland.

The collection reflects the subject's diverse range of international interests and friendships, while his patronage of both the GAA and Celtic Football Club make it a 'Must See' for sports enthusiasts. The museum is adjacent to Straide Friary. This 13th Century Norman structure contains some of the finest medieval sculpture available on the Island of Ireland. The entire area forms part of a beautifully maintained spacious site. Ample parking is available and this tranquil
location is ideal for picnics and leisurely walks. Guided tours incorporating the Museum Collection, Michael Davitt's Grave and the adjoining Friary are available on request.
For more information visit www.michaeldavittmuseum.ie
---
Ballycroy Visitor Centre at Wild Nephin Ballycroy National Park
Wild Nephin – a vast unspoilt wilderness of rugged mountains and Atlantic blanket bog. Explore the cultural and natural heritage of this area in the interactive exhibition at our beautiful and modern Visitor Centre nestled into the landscape above Ballycroy Village. Embark on a short guided stroll with one of our Guides along the 2km Tóchar Dáithí Bán boardwalk and trail (pre-booking required). The panoramic views from the top of Cleary's Hill are spectacular with vistas of the Nephin Beg Mountain range including Slieve Carr, Ireland's most remote Mountain, Slieve Mór on Achill Island and the surrounding Wild Atlantic Way seascapes.
A short drive south of the Visitor Centre you will find the Claggan Mountain Coastal Trail. A second opportunity for a short stroll (2km) on a wooden boardwalk on the bog with a return journey along the seashore where you will find evidence of the ancient forests that once dominated the Irish landscape. Let rainy days not put you off – guests can enjoy our lovely café on site which provides scrumptious lunches and delightful cakes which are all homemade or simply relax with a coffee looking out on Ireland's most remote and wild National park.
To find out more visit www.wildnephinnationalpark.ie
---
Croagh Patrick Seafoods Oyster Farm Tour
Experience a real-life Oyster Farm when you visit Croagh Patrick Seafood Tours on the shores of Clew Bay, with Croagh Patrick in the distance. Only 5 minute cycle off the Greenway and a 15 minute drive from Westport and 10 minutes from Newport.
Croagh Patrick Seafoods is a family run business, incorporating daily harvesting from Grade A oyster beds ensuring freshness and a "shore to door" delivery. The one-hour tour must be pre-booked and includes a tour of the farm and oyster tasting experience.
For more information visit https www.croaghpatrickseafoods.ie
---
The Colony Tour
A fascinating walk around the ruins of the 19th Century Achill Mission.
Achill's Number 1 Walking Tour. Open all year. Over 50 Five Star reviews on TripAdvisor! In the Year of Our Lord 1831 a young Irish Prophet came into the West to save the heathen native Irish from the errors of Popery and found a new Protestant Zion in the most miserable wilderness of the Irish nation, Achill Island.
The arrival of Edward Nangle on Achill would ignite a 50 year long religious war waged with guns, Bibles, famine and starvation and ultimately shape the entire destiny of the Irish nation. Join us for The Colony Tour, a fascinating two hour walk around the ruins of the Achill Mission, with BAFTA winning writer and Achill Islander Kevin Toolis.
To find out more visit visit https www.thecolonytour.com
---
The Ballinglen Museum of Art and Arts Foundation
View and explore this stunning area through the work of artists who have spent time in North Mayo. See many recognisable scenes, showcasing the beauty of this mystical landscape and also abstract paintings to open the mind and encourage personal interpretation and discussion. Take in the expansive view at the rear of the Museum
including Bunatrahir Bay, Downpatrick Head and St John's Church. A place of wonder and enlightenment, a jewel to find on the Wild Atlantic Way. Not just for art enthusiasts, the scope of work is broad and appeals to all ages and interests. The Ballinglen Gallery is located next door and exhibits work primarily created by Artists/Fellows of the Foundation. The exhibitions vary from solo shows to work from the Permanent Collection.

Like to enroll in an art class by leaders in Art Education? Members of the public and tourists alike can apply for one of the many workshops that run throughout the year. The museum offers stunning views of the small picturesque village of Ballycastle Co Mayo. All work by renowned Irish and International artists
For more information visit www.ballinglenartsfoundation.org
---
Terra Firma Ireland – After Dark Experiences
From the Greenway to the Milky Way! Reach for the stars and discover your wild side in county Mayo's stunning wilderness and celestial night skies with one of our "after dark" experiences. Their after dark tours and experiences are unique and ideal for group bookings and evenings out. Contact them to arrange a booking. Prices per person including transport.
Choose from a range of after dark experiences:
• Stargazing Safari and Dark Sky Tour
• Gastronomy & Astronomy
• Myth, Magic & Moonlight
• Full Moon Walk
To find out more visit terrafirmaireland.com
Kilcullen's Seaweed Baths
Traditional Hot Seaweed Baths, Relaxing, Therapeutic, Natural and Pure
In 1912, the year of the "Titanic" the doors of Kilcullen's Bath House opened for business. For over 100 years and into the fifth generation of ownership by the same family the Bath House has opened its doors for the summer tourist season. The therapeutic power of the Seaweed Bath is attributed to the high concentration of Iodine that occurs naturally in Sea Water and in Seaweed.

Invigorate yourself this autumn at the Bath House the "full treatment" comprises a "Steam & Seaweed Bath". In concept the steam bath is very similar to modern Sauna Baths but that is where the familiarity ends… You are enclosed in your individual wooden cabinet with only your head exposed to the light of day. You can breathe fresh cool air as your body is gently seamed with pure moist vapour. The treatment is completed by taking a warm Seaweed Bath followed by an invigorating cold sea water shower. Also available, relaxing therapeutic massage, the perfect complement to a Seaweed Bath.
For more information visit kilcullenseaweedbaths.net
---
Waterpoint Aqua Park
Fun for all ages!

Waterpoint Aqua Park is based in the beautiful seaside village of Enniscrone Co Sligo. Its facilities include; an indoor heated pool, a 65-metre flume waterslide, a separate children's pool, children's party room and climbing wall.A health suite comprising of a jacuzzi, sauna and steam room as well as a fully equipped gym. Outdoors there are 3 Astroturf Pitches and Inflatable Obstacle Course. Fun for all ages.
Please note Slides, Inflatables, jacuzzi & steam room are not currently operational due to restrictions
To find out more visit www.waterpoint.ie
---
Coleman Traditional Irish Music Centre
The centre is a celebration of Irish Music, Culture and Heritage as expressed in the South
Sligo Style! The Coleman Music Centre is a community based traditional music and cultural centre, it is dedicated to the memory of the legendary fiddle player, Michael Coleman, universally acclaimed as one of the finest traditional fiddle players of his era.
Visitors can experience an audio-visual presentation on the history of Irish Traditional music and the exhibition area with its interactive multimedia of various musicians, their music and styles from the beginning of the last century to modern times. Learn about Irish dancing styles and tradition, how musical instruments are made and much more. The Coleman Archive houses an extensive collection of music, folklore, songs, videos, photographs and has a link to the National Comhaltas Archive.

Gift shop stocks a vast selection of traditional music audio, books, musical instruments and accessories, gift ideas and lots more. Now enrolling (September) for a lively mix of weekly music classes including Fiddle, Flute, Whistle, Mandolin, Button & Piano Accordion, Banjo, Bodhrán, Guitar, Keyboard, Adult Music Classes, Singing
Lessons and One-to-One Classes.
For more information visit www.colemanirishmusic.com
---
Eagles Flying
Spectacular interactive bird shows with eagles, hawks, falcons, vultures and owls. The
Attraction for All the Family! Excitement, Fun, Photo opportunities and much more. Nestled in the green hills of south Sligo, it is Ireland's largest sanctuary for raptors and owls. The Irish Raptor Research Centre was established in 1999 as an institution for research on birds of prey and in 2003 parts of the area were opened to the public. Now Eagles Flying is one of the major tourist attractions in the northern part of Ireland attracting tens of thousands of visitors annually to see the spectacular interactive bird shows.
During the entertaining interactive bird shows visitors can experience different types of raptors flying right over their head or landing next to them. There is also a large supervised Petting-Zoo. Here, visitors can get hands-on with guinea-pigs, pigs,
rabbits, lambs, goats, donkeys, ferrets, Grizzly, the raccoon, Tui and Allan, the tame foxes and Monty, the 4 metre python.
To find out more visit https www.eaglesflying.com
---
Yeats Society Sligo
The Sligo-based appreciation society celebrates the life and work of poet laureate WB
Yeats and his talented family along with hosting the world's longest-running annual literary summer school. The Yeats Building is a hub for literary culture and the arts and in 2019 the Yeats International Summer celebrated its 60th year. Hyde Bridge Gallery supports young and emerging artists providing free access to contemporary visual arts to visitors.

2021 saw the launch of 'Yeats Unwrapped' the App (free to download now from Google Play and the App Store) the first to commemorate an Irish literary figure. Visitors to Sligo can follow in the footsteps of the poet through a series of experiential nature trails, and linking the many beautiful locations throughout Sligo to the enduring poetry of National Poet WB Yeats.
For more information visit www.yeatssociety.com
---
Carrowmore Megalithic Cemetery
An area alive with prehistoric significance, Carrowmore is the largest cemetery of
megalithic tombs in Ireland! Self-guided tours available of more than 30 stone tombs, many of which are still visible. Most are passage tombs and boulder circles. There are various forts and standing stones in the area too. The origins of these monuments reach far into prehistory – the most ancient among them is close to 6,000 years old. A restored cottage houses an exciting new exhibition that will satisfy the curiosity of even the most
demanding visitors. Come prepared for a hike across rugged terrain.
To find out more visit heritageireland.ie
---
VOYA Seaweed Baths
VOYA Seaweed Baths mission, based on their knowledge and respect for the local
tradition of seaweed baths, and with emphasis on ensuring environmental sustainability, is to share with customers the full therapeutic power of nature in its purest form through their offering of seaweed baths and therapy. At the bathhouse, the seaweeds are hand harvested on the Atlantic Coast. Imagine relaxing in a luxurious steaming organic seaweed bath this autumn or try a massage, exfoliate, or body wrap. VOYA have used generations of acquired wisdom about the sea to bring you an organic beauty range designed to delight and purify your body.
For more information www.voyaseaweedbaths.com
---
Island View Riding Stables
Trek across stunning Streedagh beach Co Sligo on horseback or take the unique opportunity toexplore the private island with Island View Riding Stables. The farm is run by 3 generations of the O'Connor family, the stables are situated in the scenic North
West of Ireland overlooking the Atlantic Ocean and Donegal Bay on The Wild Atlantic Way. There are over 35 horses and ponies that enjoy a life close to nature in the vast fields between Benbulben Mountain and the sea. The nearest beach is only a few minutes' ride from the stables. You can enjoy a fresh canter, a leisurely stroll, or a splash in the sea for the brave this time of year.
To find out more visit islandviewridingstables.com
---
Sligo Oyster Experience Farm Tour
GoAdventure 2021 – Top 10 Experiences in Ireland for Food Lovers!
Immersive guided tour to Coney Island working oyster farm on the shores of Sligo Bay.
Enjoy a unique seafood experience, the Sligo Oyster Farm Tour guided by Aisling owner of Sligo Oyster Experience. Learn all about Sligo's ancient seafood and get exclusive access to a long established working oyster farm producing delicious oysters. Learn about the care, craft and expertise that goes into growing Sligo Bay Oysters from a tiny seed all the way to your plate.
Take in the views of the iconic mountains of Benbulben and Knocknarea, the grand expanse of Sligo Bay and learn how land and sea together influence the taste of our oysters. Complete the experience by enjoying oysters by the shore with a local craft beer, bubbles and refreshments.
For more information visit sligooysterexperience.ie
---
Sligo Walking Tours
Sligo Walking Tours offer social history and literary-themed walking tours. Explore Sligo's dark history on the Dark Tales walking tour revealing the town's turbulent past with stories of the undead, executions, jail-breaks, disease and other grim tales. The tour is 90 – 120 minutes on average. Sligo Walking Tours is run by Mel Ni Mhaolanfaidh, a Historian and Tour Guide who researches and creates unique walking tours in Sligo in the North-West of Ireland along the Wild Atlantic Way. On the tour you will discover Sligo's connection to Bram Stoker, the Irish author, best known for his 1897 Gothic novel Dracula. Learn about the tragic history of Sligo Abbey that inspired W.B. Yeats. Hear about grim tales of crime and punishment in the nineteenth century.
To find out more visit sligowalkingtours.com
---
The Model, Home of the Niland Collection
The Model is a world-class visitor centre that boasts a restaurant and coffee shop, a
bookshop, a wonderful gallery circuit, a purpose-built performance space, and a suite of impressive artist studios on the top floor, with enviable views of Sligo Town and County.
This award-winning building is home to one of the most notable public art collections in Ireland, which features one of the largest public holdings of work by Jack Butler Yeats in existence. The Niland Collection also features a broad range of both traditional and contemporary works by artists including Norah McGuinness, Dorothy Cross, Alice Maher, Clodagh Emoe, Eamon O'Kane, Sean McSweeney, Estella Solomons, and Paul Henry amongst many others. What's On – 'Signals & Circuits' a programme by aemi, experimental film curators, of contemporary moving image works by Irish and international artists. Runs until Sunday Oct 10th 2021

Exhibitions include:
Sligo born painter Alison Pilkington, I Build My Own Island until Sunday Oct 10th

Jack Butler Yeats; Salt Water Ballads until Sunday May 29th 2022

One for the kids – Museum of Pirate Puppets open until the end of the year. Children are invited tomake and exhibit their own pirate
For information visit www.themodel.ie
---
Drumcliffe
Drumcliffe Church and Churchyard the final resting place of the internationally famous
poet W.B. Yeats. Pilgrims and Visitors have been visiting here for over 1500 years. The Church and Churchyard has an array of points of interest to discover. From the remains of the ancient monastery to the burial place of W.B. Yeats, the current Church of Ireland Church and its fascinating history. Why not book an audio guide tour of this amazing place!
The Church is currently closed but the churchyard and burial place of W.B. Yeats is available to visit.
To find out more visit sligotourism.ie
---
Sligo Folk Park
A trip down memory lane!

Sligo Folk Park is located in the beautiful village of Riverstown, County Sligo. This community based attraction provides a true experience of rural life and Irish heritage at the turn of the 19th Century. The Folk Park is set in the grounds of the authentically restored Millview House, which was originally built in 1873 by George Reid a farmer, shoemaker and the local church sexton. Stroll around the park and visit the wonderful museum and evocative exhibition hall which houses one of Ireland's finest collections of rural history and agricultural artefacts.

Catering to all ages and group sizes, Sligo Folk Park has something for everyone. With 12 different exhibits and 6 acres of space, social distancing is easy.
Please call ahead on 071 916 5001, to book in a time to tour the site, to ensure a safe and enjoyable day at Sligo Folk Park. Self-Guided Audio Tour available.
Please note it is recommended to arrive at least 1 hour before closing time to allow time to visit all of the exhibitions at the park and enjoy the café.
For more information visit sligofolkpark.com
---
Taste of Sligo
Get together to share food, drink, experiences, and stories. Taste of Sligo food tour is a 2.5-hour long foodie tour of Sligo's finest venues. Host Anthony Gray takes
you into the heart of Sligo town to experience exquisite culinary delights from Sligo's award-winning chefs. You will visit 5-7 of the best of Sligo's venues, taste and sample local food delights and beverages with a focus on the freshest local produce. There is no better way to explore Sligo than through its hospitality industry with Anthony Gray as a host.. Sligo is a foodie heaven!

Booking is essential.
Group bookings please email or call and request dates Wed-Saturday 12pm or 2.30pm contact [email protected] or call 071 9138591
To find out more visit tasteofsligo.ie