---
Ireland as an island is renowned for its splendid coastline and beautiful beaches, and none are more awesome and magnificent than in this pocket of North Mayo between Ballina and Belmullet, and throughout Erris and the Mullet peninsula where the combination of the wild Atlantic, the soaring cliffs and clean sandy shores make for some spectacular vistas.
The beaches in North Mayo really are second to none. Whether you are looking for beautiful clean white sands for a leisurely picnic, a refreshing swim, fun with the family, a refreshing walk or an afternoon surf, the area's unique and tranquil beaches won't disappoint you. And sometimes, you'll even have them all to yourself!
Below are eight of the best beaches in North Mayo, and a bonus beach next door in Co. Sligo!
Please leave our beaches clean – use bins provided or take your rubbish home!
Please note that under County Mayo bye-laws from June 1st – September 15th dogs will NOT be permitted on Mayo's Blue Flag beaches from 12:00pm – 6:30pm each day. Guide and assistance dogs are exempt from the bye-law.
1. Ross Strand, Killala – safe swimming and a 5km loop
Blue Flag beach Ross, just past Killala along the Wild Atlantic Way towards Ballycastle is a lovely, welcoming and sheltered strand. As you approach, on the right is a sandy beach and the stretch on the left offers a haven for children who love nothing more than exploring the rock pools and spotting the sea life.
Coastal erosion sadly means that this landscape changes yearly, but it offers gorgeous views of Bartra Island and Enniscrone across the Moy Estuary. While the tide is out, a 5km looped walk will take you around the coast, past the restored Coastguard Station and onto stunning CBI Beach Killala , a real local secret (shh, don't tell anyone), before bringing you back along the quiet road to your starting point. Do check the tides in advance however!
Swimming is safe on the main strand (but not on CBI!) and there is a lifeguard on duty* during the summer months (hours below), however, do stay within the designated areas due to strong currents. You'll also find toilets, a picnic area and you can even park up a motorhome for the night.
*Lifeguard services available
---
2. Lacken Strand
Miles and miles and miles of glorious strand. A Discovery Point on the Wild Atlantic Way, Lacken strand is so vast, that in summer when the tide is out, it comfortably hosts outdoor concerts!
The perfect place for children, dogs and grown-ups to run wild and free, and it's also a safe space for little ones when the tide is out.
It does flood twice daily when the tide returns, so be mindful of this and it's not safe for swimming. Be aware too that there are areas of quicksand. But as strands go, it's one of the most spectacular and open you'll find anywhere in Ireland.
---
3. Kilcummin Back Strand
It's our personal favourite, not least for the breathtaking vista that awaits you once you reach the crown of the hill on the approach road. Kilcummin, scene to General Humbert's Landing in 1798, boasts miles of beautiful cliff edges culminating in a spectacular sea cave and sandy strand at the back of Lacken Strand (hence the name!).
While it's not recommended that you swim here, it's a perfect spot to rock up to on a warm day with a chair and a book, and savour the incredible surroundings before taking a paddle in the wild Atlantic. It's also a favourite spot for sea angling and you'll often see fishermen on day-long fishing expeditions, picnics in tow. You might even spot a dolphin or two!
Its charm lies in the fact that it never gets crowded, so make sure you take the opportunity to visit this North Mayo favourite.
Find Kilcummin Back Strand on the map
---
4. Ballycastle Beach
One of our best-kept secrets! Ballycastle is best known for the Céide Fields and Downpatrick Head, and what a little oasis it is in the centre of these two.
But did you know that Ballycastle also boasts a gorgeous little strand, at Bunatrahir Bay?
And it harbours a little bit of magic … wait til the tide goes out and watch the Mermaid's Fin appear.
If you want to know the story of Erin, Ballycastle's Mermaid, the answer lies with the locals …
Photo: Ballinglen Arts Foundation
Find Ballycastle Beach on the map
---
5. Portacloy
If ever the phrase "off the beaten track" applied, it applies here!
This picture-perfect, beautifully spectacular beach in North Mayo, is isolated by miles of blanket bog, and nestled deep into a natural harbour, Carrowteige Cove, which makes it a beautifully safe heaven for swimming or snorkelling. It is an extraordinary place to spend the day and it rarely, if ever gets crowded.
We'd recommend you bring snacks, as cafés are few and far between, the nearest being Carrowteige village, or make a pitstop at Teach Greannaí, Cornboy, on your way. There are temporary toilets in place for the summer months.
While here, you can also get active along the 18km Portacloy Loop Walk which starts and finishes at the beach, and takes you along the sea edge all the way to the extraordinary cliff views of Benwee Head.
---
6. Rinroe Strand, Kilgalligan
As we move further west towards Erris and the Mullet peninsula, the beaches just get more and more breathtaking, and Green Coast Award winner Rinroe Strand has to be seen to be believed.
With pristine, crystal clear waters, this beach is set in another sheltered cove, lagoon style and is perfect for snorkelling and swimming, though caution is urged. The nearby pier is also beautifully scenic. Like Portacloy however you'll need to come with supplies, however, there are temporary toilets in place for the summer months.
There beach is wheelchair accessible via a ramp.
---
7. Elly Bay, Erris
Elly Beach on the Mullet Peninsula is a beautiful sandy beach, roughly 9km suoth of Belmullet town. It's a sheltered beach, known for watersports such as swimming, sailing, surfing, buit is also good for swimming.
Elly Bay is also a beach of international ecological importance, because of its diverse habitats to be and boasts a wealth of bird life. Elly Bay is another of Mayo's Blue Flag Beaches.
---
8. Pontoon Beach(es)
We don't just have the Wild Atlantic – we also have the lakes at Lough Conn and Lough Cullin. The sandy lakeside paradise at Pontoon, where the waters of Lough Cullin gently lap the secluded shoreline offers a peaceful, novel alternative to the wild Atlantic waters and is shallow and safe for supervised smallies.
Near Drummin Woods, these treasures – there are three small beaches – can be found between Foxford and Pontoon.
This is one of the most secluded and beautiful beaches in Mayo.
---
And one beach in Sligo – beautiful Enniscrone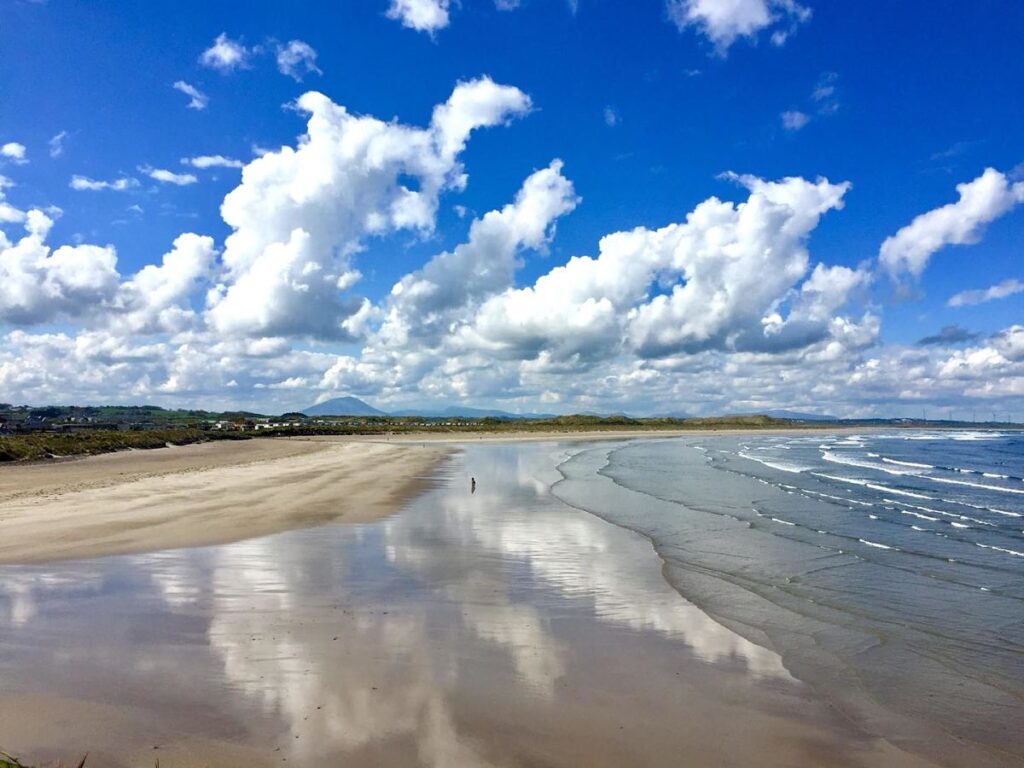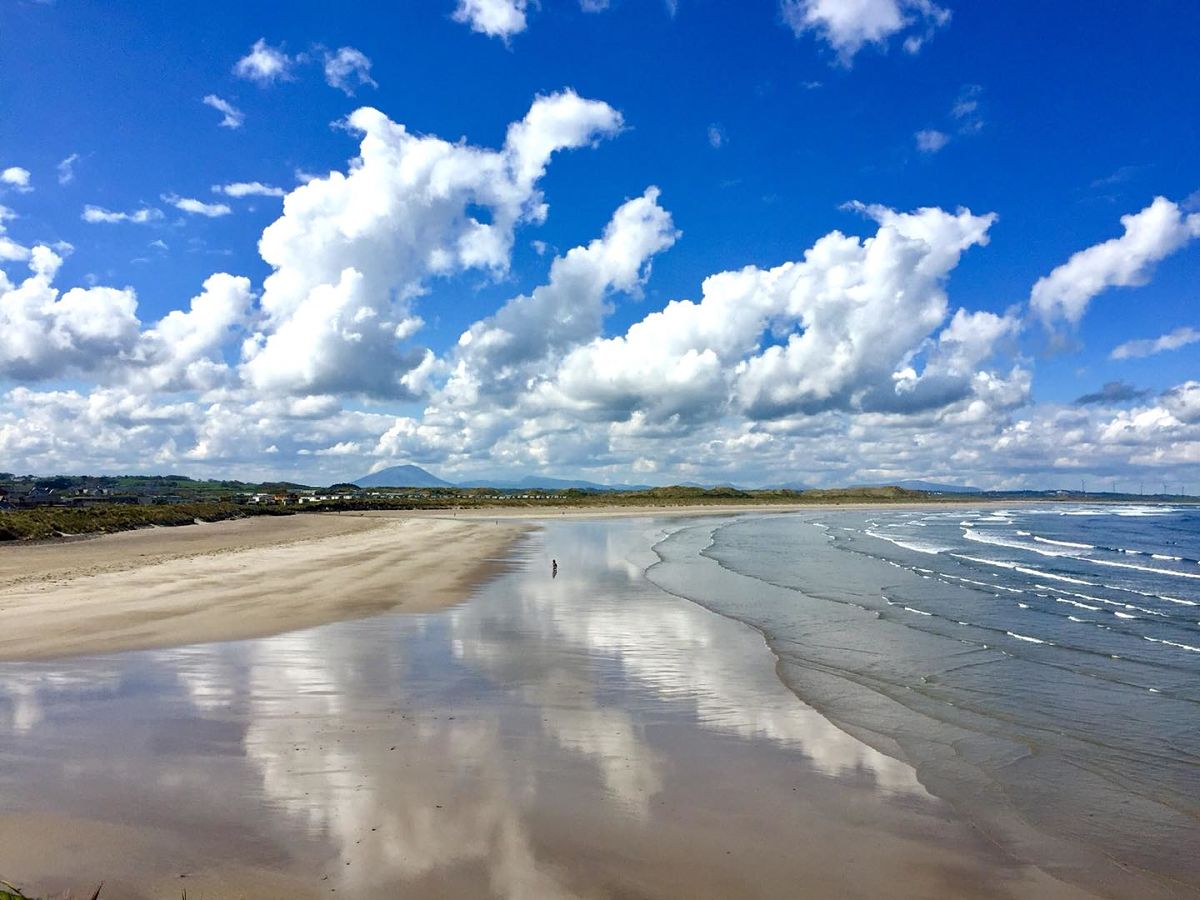 Enniscrone is the most well-known beach in this entire area. Just a few km from Ballina, over the border in Co. Sligo, Enniscrone is the classic seaside town, offering an incredible vast strand, a pier, cliff walks, ice cream kiosks, and all that you'd expect in a town by the sea.
Visit Kilcullen's famous Victorian seaweed baths, get in a round of golf at the well-renowned Ennisrone Golf Club, go horse-riding, try your hand at pitch and putt or bring the little ones to Enniscrone Playground.
But the best thing of all to do in Enniscrone is to walk right to the end of the beach, past the giant Valley of Diamonds, and see where the River Moy meets the Atlantic Ocean.
Swimming is safe and a lifeguard service operates, and you can try your hand at surfing also.
---