---
With the festive season just around the corner, below is a list of Christmas experiences in the North Mayo region. From large scale events, to intimate community gatherings, there is something for everyone here. Events include everything from craft fairs, to Santa visits, recitals to tractor runs. Additional events may be added as we get word from the elves in the North Pole.
---
CHRISTMAS CRAFT FAIRS & SANTA EXPERIENCES
– Winter Garden Circus at the Jackie Clarke Collection, Ballina
A winter wonderland comes to Ballina on Sunday 4th December from 1pm – 4pm, as the Jackie Clarke Collection host the Winter Garden Circus, in their stunning heritage walled garden. Featuring the unique circus act that is Circus250, Mrs Claus, Santa Claus, Treasure Hunt, Arts & Crafts and a live Dj. There is something for everyone. This will all be followed by the annual switching on of the Christmas lights in Ballina town at 4.30pm. A wonderful event for all ages to enjoy.
---
– Foxford Christmas Craft Fair
Foxford Christmas Craft Fair takes place in the Foxford Sports and Leisure Centre on Friday 2nd (12pm-7pm), Saturday 3rd (10am-6pm) and Sunday 4th (12pm-6pm) December 2022.
Enjoy a wide selection of arts and crafts, including ironworks, wood crafts, seasonal foods, glass craft, jewellery, paintings and more. Santa is also visiting Foxford Leisure Centre on December 3rd and 4th together with his little helpers from Foxford Brass and Reed Band. He will be in his grotto from 12pm-4pm on both days. There is no need to pre-book, tickets on the day are €10 per child, with family rates available. To find more information about this, visit the Santa Event Page and keep an eye on the Foxford Crafts Fair Facebook page.
---
– Swinford Christmas Market
Swinford Christmas Market will take place Saturday 3rd and Sunday 4th December, from 10:30am to 4:00pm in the Cultural Centre Swinford. Lots of different stalls with a variety of handmade gifts, plus food and a raffle with a chance to win a hamper of goodies.
For updates about this event please see Swinford Indoor Community Market.
---
– Ballina's Mistletoe Market
Ballina's Mistletoe Market makes a very welcome return to Ballina for 2022. Located in the town centre, just on Walsh St, Ballina (Beside the Jackie Clarke Collection) it takes place on Saturday 10th and Sunday 11th. Visitors can enjoy a unique shopping experience in the heart of the town. Pick up gorgeous gifts with its unique offering of local and continental food, sweet treats, wonderful gifts and crafts and soak up the fabulous festive spirit at this year's Mistletoe Market as part of Ballina's Frosty Salmon Festival.
The Mistletoe Markets Opening Hours are:
Saturday 10th December 11am – 6pm
Sunday 11th December 11am – 6pm.
For the latest information keep an eye on the Frosty Salmon Festival Facebook page.
---
– Ballina Community Christmas Cracker Indoor Market
The Ballina Community Christmas Cracker Indoor Market takes place on Saturday, December 10th from 10am – 3pm. Located at Scoil Padraig (F26 N82Y) opposite Tesco in the town, this event has the added bonus of free parking for market visitors. Enjoy
festive food and drinks, lots of crafts, home baking, handmade gifts and so much more.

---
– Belmullet Christmas Market
Belmullet Christmas Market makes a welcome return for 2022! The market will be in Gala carpark, Church Rd, Belmullet from 11am-6pm on Saturday the 17th December. With over two dozen stalls packed with local Crafts, gifts, food, local baking and hot beverages. Along with the stalls there will be live music, a children's fairground attractions and what Christmas market would be complete without a visit from Mr & Mrs Clause!
For the latest information keep an eye on the Erris Chamber Facebook page.
In the meantime, visit Belmullet this Friday, December 2nd at 6pm in Carter Square Belmullet as they switch on our Town Christmas Lights! Enjoy music and entertainment for the whole family! Special guests Santa, Mrs Clause and their Head Elf!
---
– Santa Experience at North Mayo Heritage Centre
The Santa Experience at North Mayo Heritage Centre which is located on the grounds of the stunning Enniscoe House will take place over two weekends – Sat. 10th Dec. (Sunday 11th is now sold out) and Saturday 17th Dec. (Sunday 18th is now also sold out). Bring the magic of Christmas to life, have a chat and even take a photo with Santa and his elves!
Early booking is advised as this is a popular event, tickets cost €20 + booking fee. For full information and to book your tickets please visit: North Mayo Heritage Centre.
---
– Killala Xmas Event
Killala Xmas Market takes place this weekend on Sunday the 4th December from 6pm – 8pm and will include a Christmas Market with crafts, gifts and food. Visit Santa, Mrs Claus and the elves at Santas Grotto. You will also enjoy the switching on of the Christmas lights in Killala.
---
– Festive Family Fun Christmas Party in Attymass
Open to all, the village of Attymass will host a festive family fun christmas party on Sunday, December 4th from 3pm – 6pm. With Christmas arts, crafts, face-painting and much more, kids will also enjoy heart-warming festive stories read by Mrs Claus and a visit to the main man. This will all be topped off with a Christmas Disco and festive raffle.
---
– Teach Greannai Annual Christmas Party
Save the date if you are in the Cornboy/Rossport area and pop along to the Teach Greannai Annual Christmas Party on Thursday, the 8th December. All details are below and remember booking is essential
---
– Santas Straide Stopover
Santa has been in touch with people in Straide to let them know he's on his way back to Straide again this year, from 11th-13th December! With the 11th already sold out, if you'd like to come and join in the festivities, don't delay and Book your slot today! Click here to book.
---
– Ballycastle Christmas Experience
On Saturday the 10th December the Ballycastle Christmas experience will return, Santa Mrs Claus and the elves are busy working on the logistics but they have told me it's going to be a fantastic evening out for the whole family.
More details to follow, keep an eye here for more details!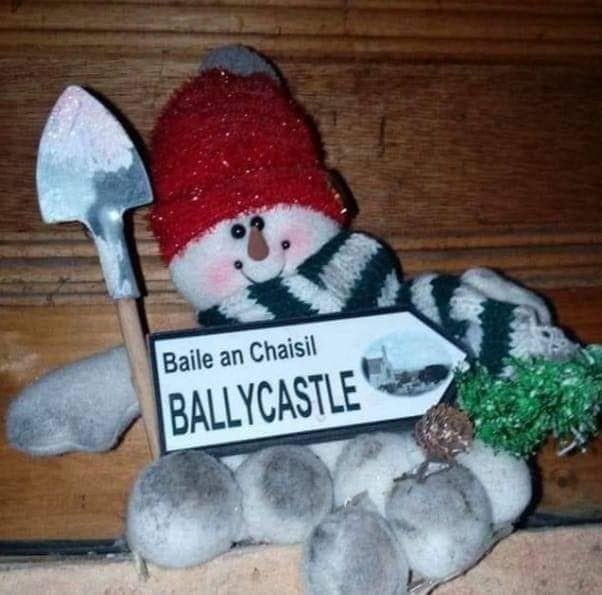 ---
CHRISTMAS CAROLS AND RECITALS
– Candlelight Christmas at St Muredach's Cathedral, Ballina
St Muredach's Cathedral will be the venue for a very special candlelight Christmas concert on Friday, December 9th at 8pm. RTE presenter Eileen Dunne will compère the evening, with performances from St Muredach's Cathedral choir and soloists, Cathedral Schola choir, soprano Donna Malone, tenor Alan McGinty, St Mary's Sec. School choir and Parish Children's choir.
This is a fundraising event to help with the cathedral's stained-glass windows. Tickets are €20 and can be purchased from the Parish Office beside the cathedral (9am-5pm, Mon-Fri).
---
– An Evening with Rejoice Gospel Choir in Ballina
Enjoy an evening with Rejoice Gospel Choir and Friends' on Sunday, 11th December at 5pm in St. Patrick's Church, Ballina. The choir will perform all the Christmas classics and a few of their choir favourites. A beautiful evening of community and Christmas spirit guaranteed.
Admission: FREE
---
– Carols by Candlelight in Belmullet
Candlelight Christmas Carols makes it's annual return to the Old Church, Belmullet. Come along and join in the festivities on Saturday, 17th December at 9pm.
---
CHRISTMAS TRACTOR RUNS
– Foxford Christmas Tractor Run
Who doesn't love a good tractor run, particularly at Christmas! This one takes place in Foxford on Saturday,10th December at 6pm. Commencing at Foxford Leisure Centre, all proceeds of the Foxford Christmas Tractor Run are in aid of Mayo Roscommon Hospice and Moy Davitts LGFA.
---
– Erris Agricultural Show Christmas Tractor Run
The Erris Agricultural Show Tractor Run takes place on Saturday 17th December at 6pm. Click here to view the full tractor run route.
---
And that is it! I'm sure there will be more. Some great events have already sold out like the Fifth Scouts Santa Train in Ballina; Festive Sunday Lunch with Santa at The Erris Coast in Geesala and in the Ice House in Ballina. Others have taken place already such as the Kiltane Christmas Market, but there is still loads to do and see, so please go explore and support these wonderful events in our locality.
Keep an eye for more festive experiences in North Mayo to be added!