---
In Mayo North, there is something for everyone, its renown amongst hill walkers, climbers and adventure seekers, but with that being said, the first point of call for all adventure enthusiasts is Nephin, or 'Nephin Mór'.
Standing at 806 metres (2,646 ft.) Nephin is the second highest mountain in Connacht and climbing Nephin is also one of the top 12 things to do around Crossmolina!
Its distinct 'crater' formation makes it a spectacular and enjoyable climb and it is now safely waymarked to the summit from a point near Lahardane in North Mayo (details below).
Access and starting point to climb Nephin
Nephin can be accessed by different routes.  Although there is no one way to climb the mountain, it is advisable to seek advice before the ascent. Information and guide access can be obtained by contacting Crossmolina Tourist Office (096 30935) or visiting Crossmolina.ie.
Just recently, thanks to Mayo County Council, the Nephin's Haven group and the local community, a new marked trail has been put in place to take you all the way to the top of the mountain! Head towards Lahardane from Crossmolina and use this Google Maps link to the Nephin Car Park. 
However, climbers should ascend with care, and it is not advisable for groups to ascend the mountain with no experience of navigation or using navigational equipment, as weather conditions can change very quickly.
Climbing Nephin  – Other Possible Routes
Another  point of access to the Nephin ridge is from the R312. There is off-road parking near here.
There is also another route from the east. The route starts up a private road which is access for a pump house. The pump house is in a locked compound at the end. When you get to the end you go through a gate directly in front of you then straight away the gate to your right, walk another 150m and you are at the start of the climb just over the small stream. Do not block the gate into the access road. Many locals use this route but as with all private land be prepared to ask should you encounter the landowner.  (More information on walkingroutes.ie)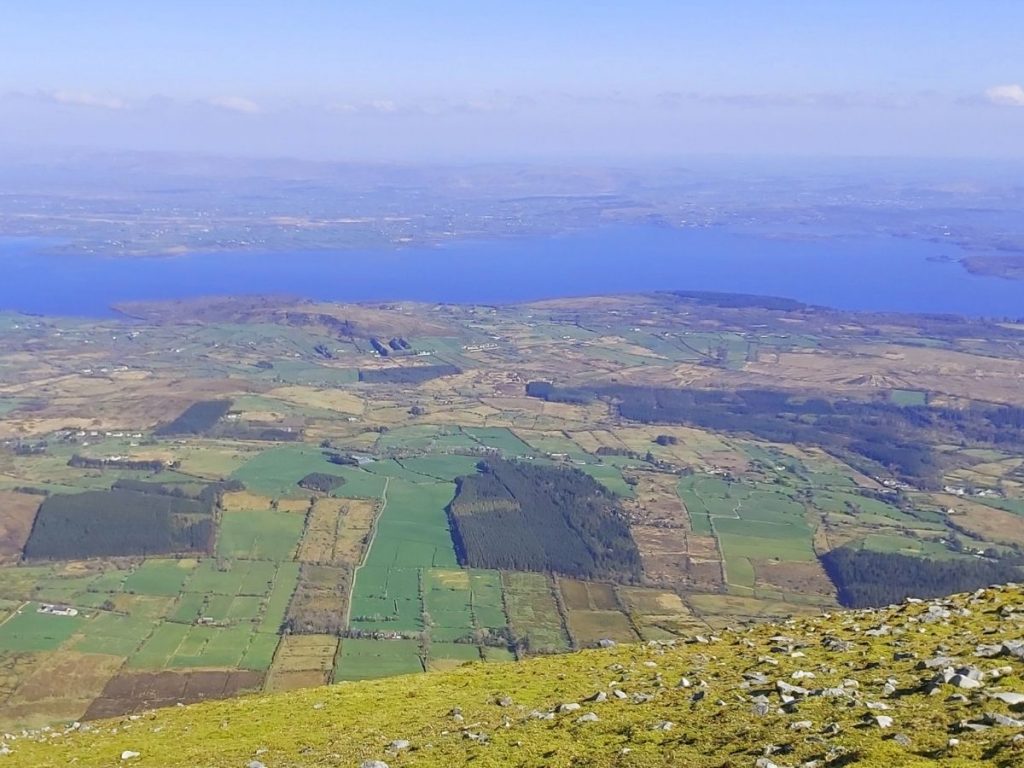 Depending on the route you take, the total distance of the route is will be approx. six miles (10km) and the walking time should be approximately about 4 hours, though this will of course vary depending on your own speed. The mountain is contained in the Ordinance Survey Map Discovery Series Sheets 23 or 31.
The Summit
A trigonometrical pillar marks the summit, which offers an amazing view of the surrounding countryside and the vast blankets of bog in the Erris regions.
The mountain overlooks Lough Conn and legend has it you can see the mountains of Donegal and Connemara – the locals say you can see seven counties on a clear day!
It is recommended that you descend the mountain  by the same route. Although there are other routes, its highly recommended you return via the route you came.
Guided climbs of Nephin, Co. Mayo
If you don't feel confident tackling the mountain on your own, why not contact one of our local guides who will be happy to guide you safely to the summit?
Rachel at Rachel's Irish Adventures
Georgia and Ged at Terra Firma Ireland
Derek at Walk West Ireland
Get your certificate!
When you've completed your climb, be sure to pop into Barrett's of Lahardane nearby, where you can pick a FREE Certificate of Achievement – just be sure to capture a selfie at the summit!
Before you climb – pay attention to safety and do not take unnecessary risks.
Be aware that it's incredibly easy to get lost on a mountain, even in this age of technology, and particularly if cloud ascends quickly and unexpectedly. Prepare before you climb and do not take any risks. Before climbing Nephin, make sure to do the following:
Check the weather: If it's likely to rain, or if there could be a possible drop in temperature this will determine your clothing choice as well as the difficulty of the climb. And remember, the higher you go, the colder it gets! Ensure someone in your group is comfortable using navigational aids in the event of poor visibility.
Dress appropriately and wear suitable footwear – preferably a good pair of hiking boots. Layer up in breathable fabrics and bring something waterproof – this will also shield you from the wind. Wear something bright – if the worst happens and you need rescuing, it will help the crew to spot you.
Know what time the sun sets and try to avoid getting caught in the dark. If you think there's a chance you might, bring a torch.
Stick to the marked trail if you're a novice climber.
Tell someone exactly where you are going and let them know what time you expect to be back, especially if you're setting out alone.
Look over your route in advance: Take note of landmarks or natural formations that should appear along your route, and know what direction you are heading: North, South, East or West. Ift's best to have someone with you who can read a map and use a compass. Before climbing Nephin, take a photo of your map, in case it blows away or gets damaged!
Charge your phone: Make sure your battery is fully charged, and consider bringing a power pack, especially if it's a cold day, as the cold may drain your battery.
Bring food and water – something to keep you going if your energy levels dip or if your walk takes longer than you planned.
Mountain Rescue
Learn the number for Mountain Rescue: 999/112.