---
North Mayo is famous for its incredible landscapes and scenery, and there's no better way to get away from it all than by exploring our lovely landscape. But guess what makes it even better? Coffee! And snacks! Over the past few weeks lots of small new mobile businesses have started up in the area, catering for visitors in some of our more remote areas with coffee, tea and baked treats. Here's a guide to some of the newest on-site coffee carts and food trucks in North Mayo (along with some old favourites in there too)!
---
Coast Coffee, Ballycastle
The coffee cart with the best view in Ireland? We think so! Coast Coffee is a horsebox converted into a Coffee Trailer; it's situated along the road to the Céide Fields overlooking – serving beverages and a selection of sweet treats. It's currently open on Fridays, Saturdays & Sundays from 10am – 4pm.
---
Benwee Coffee, Kilcummin
Benwee Coffee is a brand new addition to the area, and will be located between Kilcummin Pier and Kilcummin Back Strand – please check their Instagram account for daily location. Coffee, including iced coffee, tea, fresh bakes and snacks can all be got here, with stunning views included for free. Kilcummin Pier is fast becoming a hub for outdoor sports, and Kilcummin Back Strand is one of the most scenic spots in Ireland, so it's great to see coffee added to the mix!
---
Boho Barista, The Quay, Ballina
One of our original and best! Boho Barista is situated on the picturesque banks of the River Moy, down the Quay area in Ballina. Boho is about community and connection, just as much as it is coffee, and the distinctive blue Boho van has over the past year become a safe and cherished meeting point. Mark and Anne serve a selection of delicious home-baked treats to go along with your delicious Allpress Espresso coffee, and at the nearby seating, you can take in the tranquility of the Quay. Current opening hours: Thurs – Sat 9.30am – 3pm and Sunday 10am – 3pm.
---
D'Barista, Killala Road, Balllina
Quality Italian coffee and premium treats, based at McVann's Furniture Store, Kilalla Road. Open Wednesday to Saturday 8.30am-6pm and Sundays 10am-6pm.
Silverstream Coffee, various locations
Silverstream Coffee can be found in the Belleek area of Ballina, or out and about in Crossmolina, please check their Facebook page for location. Enjoy the lovely scenic locations while recharging!
---
Tea By The Sea, Downpatrick Head, Ballycastle
Tea By The Sea is based at the spectacular Downpatrick Head in Ballycastle. Patsy and Wanda serve sandwiches, burgers, breakfast rolls and hot/cold beverages. The perfect spot to enjoy a coffee while listening to the sounds of the wild Atlantic Ocean. And Patsy might even give you a song!
---
Sea Biscuit Coffee Bar, Belmullet
Sea Biscuit Coffee Bar is based on the scenic Shore Road in Belmullet, open Fridays, Saturdays & Sundays from 10am – 6pm, please see their Facebook page for updates. They serve delicious speciality coffees and lovely treats to go along with it. The perfect treat after a swim in the famous Belmullet Tidal Pool, also located at Shore Road!
---
T2 Coffee Van, Enniscrone Beach, Co.Sligo
T2 Coffee Van – For the Months of May – September, the award winning T2 Coffee Van will be located on Enniscrone Beach in Sligo.
Proprietor Leo Munteanu serves delicious Carrow Coffee, Little Cheesecake Shop treats, tasty Andarl Farm Sausage Rolls and Freshways wraps and paninis. A real treat on any day out.
A big shout-out to Leo for his compostable coffee cups too!
T2Coffee also cater for wedding, events and functions. If you have any enquiries, please contact [email protected].
---
Cups & Crepes, Ross Strand, Killala
Cups & Crepes serve delicious crepes and hot beverages at Ross Beach, Killala. They are there on Sundays from 12pm – 6pm, so have a well-deserved treat after a lovely walk on the beach.
---
Chillax le Blogaimín, Stonefield
The Chillax le blogaimín is located outside Connolly's Pub in Stonefield. They will be selling teas, coffees, hot chocolates, scones, treats and minerals. They will be open Thursdays, Fridays, Saturdays and Sundays from 12 till late.
Chillax le blogaimín can also open any day on request just ring ahead on (086) 0726926.
---
The Old Salt Café, Foxford
Serving speciality coffee on the banks of The Moy in Foxford, the Old Salt Café is located on Main St, Foxford, Co. Mayo. The café is open daily from Tuesday – Friday from 8:30am – 5:00pm and from Saturday to Sunday from 9:00am.
---
The Food Dude Truck, Swinford
The Food Dude Truck is a unique 1792 Airstream turned into a food truck, specialising in burgers, but serving wraps & chips as well. Located just outside Swinford on the N5, opening on Thursdays – Mondays from 10.30am – 6pm.
---
Coffee Doc At O'Connor's Swinford
The Coffee Doc At O' Connors is located in the heart of Swinford Co. Mayo. Featuring Bean West Coffee from Westport Co. Mayo, and a selection of homemade treats.
A Pizza Garden is also available Wednesday to Friday from 3:30pm – 8:30pm at Coffee Doc At O'Connors.
---
Tuk Tuk, Ballina Road, Belmullet
This new and busy spot serves scrumptious, authentic & freshly cooked Asian Street Food. Find them on Facebook here.
---
Tea & Coffee Pod on Blacksod Pier, Blacksod
Probably The Most Scenic Cup of Tea you will ever have. The pod is open 7 days a week from 10am – 6pm serving beverages and snacks. Check out their Facebook page for more information.
An Builín Beag, Belmullet
An Builín Beag is located behind O'Donoghues Bakery, with access from Aldi Carpark. Serving freshly baked breads, pastries along with Bewleys Barista Coffee and Tea. For updates, see their Facebook page.
Cliffside Treats, Glenlara @ Erris Head
Hot drinks, delicious homemade baked treats, selection of soft drinks, Ice cream & Confectionery are all avalable from Cliffside Treats. Based in Glenlara – in the carpark of the Erris Head Loop Walk. Open from 11am-6pm (and maybe later if the weather is good) Serving Teas, Coffees and home baked treats with beauriful views of Erris Head and the Stags of Broadhaven thrown in for free.
---
Calpin's Country Fryer, various locations
Calpin's Country Fryer is a mobile fast food truck, serving the usual favourites and a weekly special. Locations change daily, and currently can be found in the following places – Bangor (Tuesdays), Greencastle (Wednesday), Inver (Thursday) and Carratigue (Friday) open from 5pm – 8pm. Follow them on Facebook for updates. Their latest special, the homemade Beef Burger with caramelised onions, country relish, bacon and gouda cheese is making us hungry, we won't lie!
---
Blue Dolphin Fish & Chip Van, Ballina
Blue Dolphin is a mobile food truck serving delicious traditional Fish & Chips along with a variety of other fast food. Can be found in Ballina on the Killala Road, outside McVann's Furniture on Mondays, Thursdays & Fridays from 3pm – 9pm.
Mc's Grill, various locations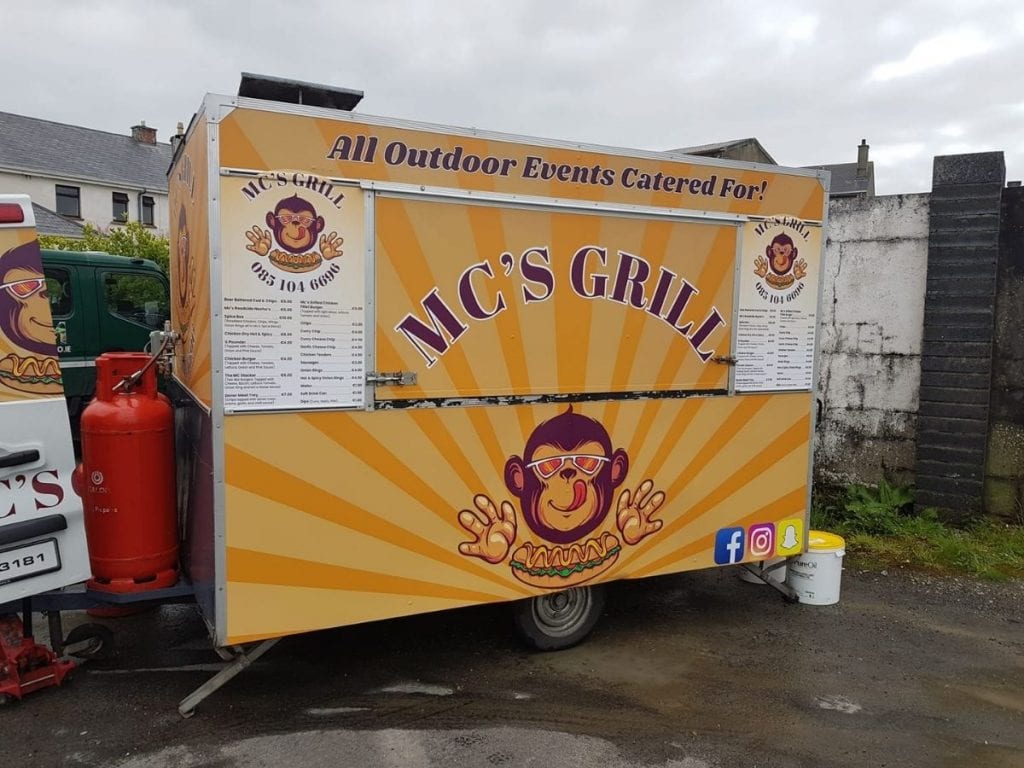 Mc's Grill is a mobile take away doing the usual take away treats with a few twist along the way. Open from 5pm – 8pm in the following locations – Ballycastle (Wednesday), Binghamstown (Thursday), Belmullet (Friday) and Ballycroy (Saturday). Follow their Facebook page for updates.
Megabites Mobile Diner, various locations
Megabites Mobile Diner is a mobile fast food diner serving burgers, chips and a weekly special. The truck can be found at various locations from Thursday – Sunday, so please check their Facebook page to see if they will be at Lahardane, Binghamstown or Ballycastle.
---
Flannery's Fish (fresh seafood)
If you're staying in self-catering accommodation, and fancy cooking the freshest of fresh seafood, Flannery's Fish pride themselves on supplying fresh fish and shellfish of the highest standards in various locations every week:
Wednesday: Mulranny 10am – 4pm | Thursday: Castlebar (Corrib Oil) 9am – 3pm
Friday: Westport (Corrib Oil) 9am – 3pm | Saturday: Ballina (Merry Monk) 9am – 3pm
This family run business based in Porturlin, Co. Mayo continuously aim to help their customers avail of the highest quality produce and so, they provide a home delivery service also. To arrange a home delivery or for any further enquiries, you can contact Flannery's Fish by calling or Whatsapp on: 0861945549
If you wish to taste Flannery's fresh fish, but don't feel like cooking, not to worry! Flannery's Fish proudly supply their fresh and high quality produce to several restaurants throughout North Mayo.
---
The Pizza Pod, Mayo
The Pizza Pod Mayo are a family run business serving handmade, authentic Neapolitan style pizza, using premium Italian and Irish products. They are situated in the Goat car park in Foxford town on Friday and Sunday evenings and in Knockmore on Saturday evenings (subject to change). Please keep an eye on their Facebook Page for updates to times and locations.
The Pizza Pod is also available for hire for all types of functions, festivals and events including weddings in both Co.Mayo and neighbouring counties.
If you have an enquiry, please get in touch with Tony or Susan by email or call (085) 746 4922 and they would be happy to help.
An Bosca Capall
A Horse Box Coffee Trailer serving Belmullet and the surrounding areas. They offer a full Coffee Menu, along with a variety of cold drinks and Iced Coffees. Also available are a selection of homemade pastry's, snacks, sandwiches and locally sourced Boxty. Please see their Facebook page for more information.
TUPI Food Truck
At TUPI Food Truck, you can expect homemade treats with a Brazilian and Italian flavour. This food truck is based on the beach in Enniscrone, Co. Sligo. More information can be found on their Facebook and Instagram pages.
Dough Mamma, Ballina
Dough Momma Pizza are sometimes located in Mocha Beans Express on the Foxford Road in Ballina, they don't have a regular schedule, so please refer to their Facebook page for updates on when they will be in the area.
The Sea Bean, Enniscrone
The Sea Bean are located @ Enniscrone Pier on Fridays, Saturdays and Sundays from 10am – 4pm – serving Coffee and treats from the heart of Enniscrone. Please see their Facebook Page for more information
Céide Ladle, Ballycastle
Céide Ladle is a food shack located on Main Street in Ballycastle, serving Hot food, Salads and wraps. They are open Fridays, Saturdays and Sundays. Their food is prepared daily using fresh ingredients locally sourced and seasonal produce infused with creativity and flair. You can order ahead by calling: 083 012 5218, please keep an eye on their Facebook page for further updates.
That's our list of coffee carts and food trucks in North Mayo – if we've missed anyone, drop them into the comments on social media and we'll add in.