---
A signature Discovery Point along the Wild Atlantic Way, and one of the must-sees on the route.
Just a few miles north of Ballycastle, on the edge of the earth overlooking the wild Atlantic, lies the rugged, windswept outcrop of Downpatrick Head. Now a Signature Discovery Point on the famed Wild Atlantic Way, the area provides unparalleled views of the ocean, including a unique vantage point over the Stags of Broadhaven. A majestic sea stack rises tower-like from the sea, with its centuries of layered rock providing shelter to thousands of nesting sea birds.
---
The history and legends of Downpatrick Head
Legend has it that the tyrannical Celtic chief, Crom Dubh (meaning 'the dark, stooped one') lived on the edge of Downpatrick Head. St. Patrick, on paying a visit to the neighbourhood and hearing of his misdeeds, set out to visit him. Seeing the saint approach, Crom Dubh set hig dogs on him. The saint, however chastened the hounds. Crom Dubh in desperation set a fire with which to hinder Patrick. Picking up a stone, the holy man hurled a stone into the middle of the fire, sinking it deep into the earth.
Today, the hole is known as 'Poll na Seantainne' ('Hole of the Old Fire') and visitors can gaze from the edges of the blowhole, deep into the sea from the Spirit of Place viewing point.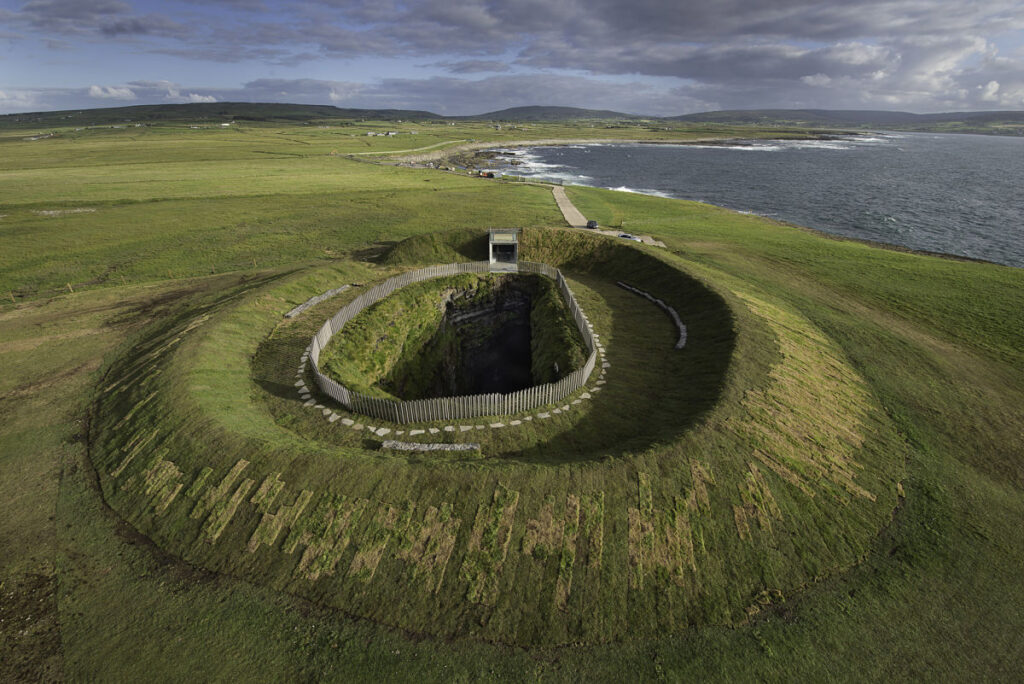 Upon reaching Crom Dubh, St. Patrick tried to reason with him and convert him to good ways, to no avail. Such was the fury of the conversation that Patrick in frustration struck a blow to the ground so hard that the ground gave way, separating Crom Dubh's home – and the chief himself – from the mainland. Crom Dubh had no choice but to remain on the sea stack until the midges ate the flesh from his bones.The separated sea stack today is called Dún Briste (meaning 'Broken Fort').
Visitors can see several other archaeological monuments on Downpatrick Head, including Bronze Age ring-barrows, early ecclesiastical sites and the remains of a promontory fort, a church building, a stone cross and a holy well. A World War I lookout tower stands sentry-like on the promontory. A World War II stone aerial marker has recently been restored. The "Eire 64" marking was one of many placed along the coastline to identify Ireland as neutral during the war.
---
Explore Downpatrick Head
The Wild Atlantic Way website now has spectacular 360 degree photography of Downpatrick Head on their website – click here.
Aerial Photography Eire have captured by drone, the majesty of the site in the following video:
---
Local tour guide and forager Denis Quinn speaks about what it's like to live in this beautiful area on the Wild Atlantic Way in the video below.
But of course, the only way to truly appreciate the magic of Downpatrick Head is to take a trip along the Wild Atlantic Way and see it for yourself!