In a week that welcomed the Connacht Fleadh to Ballina, the north Mayo region also saw the opening of two new Cafés (the Orchard Café at the North Mayo Heritage Centre, and Mam's Café Ballina) as well as the opening of the areas newest accommodation offering. On Friday, 30th June, Heyday Hostel in Ballina opened its doors to the public for the first time.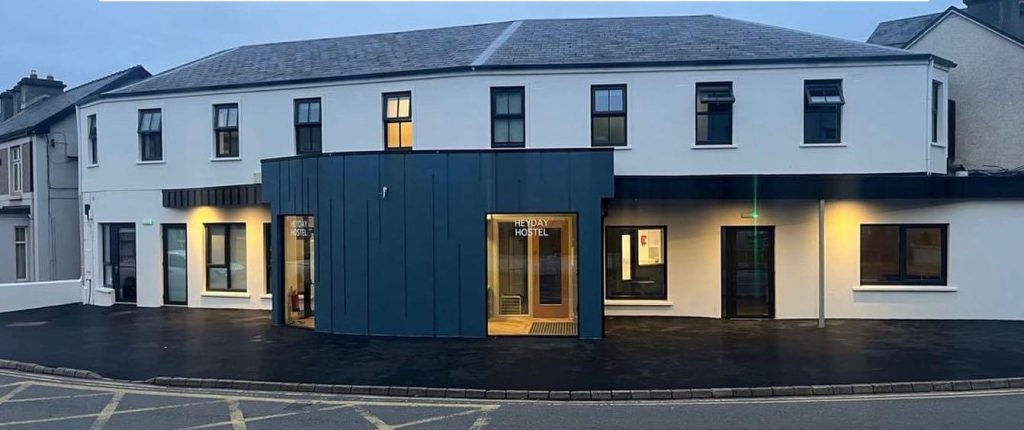 The perfect location
Heyday Hostel is located on an impressive site at lower Pearse Street in Ballina town, close to the River Moy. The hostel will sleep 38 people with varying size rooms and is perfect for solo travellers or groups alike. It has a host of shops, restaurants and pubs on its doorstep. The beautiful Belleek Woods is also only a short walk away. Heyday Hostel is ideally located for guests to enjoy all that Ballina and the wider North Mayo has to offer. It is the perfect springboard to travel along the Wild Atlantic Way which offers untamed naturel beauty and many attractions dotted along the way.
It has been yet another great month for Ballina. Having just hosted the hugely successful Connacht Fleadh, Ballina town is now set to welcome a global delegation of visitor to the Mary Robinson Climate Conference. This will then be followed immediately after by the 59th Ballina Salmon Festival. Ballina and its surrounds are set to be busy for the foreseeable as the town celebrates its 300th anniversary this year. (Visit Ballina2023 for more information)
The first guests at Heyday Hostel
A welcome addition to the accommodation offering in north Mayo
Mayo North Tourism are particularly delighted to welcome more accommodation to Ballina town centre. Manager Mairéad Melody-Carr added: "The opening of the Heyday Hostel is an amazing addition to Ballina and North Mayo. A hostel offers a very different visitor experience to say a hotel. It is obviously somewhere to rest your head, but it is very much a social experience, somewhere to share stories with likeminded people. Clean, comfortable and good value hostel accommodation such as that provided by Heyday is very much sought after. On behalf of Mayo North Tourism, I would like to wish Heyday Hostel the very best of luck".
To book your stay with Heyday Hostel visit www.heydayhostel.com.