---
We know that sometimes the weather isn't amazing in this part of the world. And while it's all part of the charm of the wild and wonderful West of Ireland, sometimes you just want to stay dry and pass an afternoon without donning head-to-toe waterproofs! Here are some great suggestions for things to do on a rainy day in North Mayo and surrounds that will keep you under cover and entertained!
1. Discover hidden treasure at Belleek Castle's Marshall Doran Collection
Firstly, visit the Marshall Doran Collection, housed in the dungeons of Belleek Castle, boasts the finest collection of medieval arms and armour, antiques and ancient fossils in Ireland.
Book in for a guided tour and discover the secrets of this quirky little gem, and treat yourself to something tasty in Jack Fenn artisan Courtyard Café!
Visit: www.belleekcastle.com | Call: +35396 22400
---
2. Weave an unforgettable experience at Foxford Woollen Mills
Shop the homewares and beautiful, world-famous textiles in the airy Foxford showroom, and enjoy lunch or some delicious cake in the renowned Foxford Café upstairs, surrounded by artefacts from Foxford's past.
Peek through the window at the working mill and marvel at the sheer determination of founder Mother Agnes Morrogh-Bernard, who founded the mill over 130 years ago to save the people of Foxford from poverty.
Visit: www.foxford.com | Call: +35394 925 6104
---
3. Treat yourself with a relaxing massage, treatment or bath
Try one of Ireland's best boutique spas, Chill Spa at the Ice House Hotel, and relax and rejuvenate with a glass of bubbly in the outdoor hot tub overlooking Ballina Quay, Enjoy a swim in the 17m pool or revitalising treatment at the luxurious Leisure Centre and Beauty Rooms at Mount Falcon Estate or savour the calm at Eidín Spa at Great National Hotel, Ballina.
Soak your cares away and relax with a steam session and piping hot seaweed bath at the century-old Kilcullen's Seaweed Baths in Enniscrone. Rejuvenate and awaken your senses afterwards with a bracing cold sea shower.
Or enjoy a healing, relaxing session at The Biodynamic Clinic beside the sea in Killala.
---
4. Learn about one of the most famous Irish social reformers at the Michael Davitt Museum
Visit the fascinating Michael Davitt Museum, housed in a magnificently restored pre-penal church in village of Straide, near Foxford and enjoy a free guided tour or some genealogical advice.
You can also explore Straide Abbey, and visit the grave of the great man himself.
This beautiful, welcoming little museum is consistently rated in the Top 10 Irish museums on TripAdvisor, and when you visit, you'll see why!
Visit: www.michaeldavittmuseum.ie | Call: +35394 903 1942
---
5. Learn about our rural history at Hennigan's Heritage Centre
Killasser, Swinford is the setting for Tom Hennigan's Heritage Centre, which tells the story of the lives of West of Ireland people over the past 200 years.
Explore the old cottage where Tom himself grew up, the surrounding farmlands, and hear Tom tell you tales of days of old. The Centre is also home to an incredible repository of rural agricultural artefacts.
Visit: www.hennigansheritage.com | Call: +35394 925 2505
---
6. Take a tour and tipple at Connacht Whiskey Distillery
Ballina's Connacht Whiskey Distillery produces fine hand-crafted single malt pot still Irish whiskey on the banks of the River Moy in Ballina. It also produces vodka, gin, and that most Irish of spirits, poitín.
This beautiful premises, on the site of the old Duffy's Bakery at Belleek offers distillery tours, tastings and a gift shop. Check the website for tour and tasting times!
Visit: www.connachtwhiskey.com | Call: +35396 74902
---
7. Wander through an exhibition at Ballina Arts Centre
Experience Ballina's creative and cultural side in the bright, modern riverside setting of Ballina Arts Centre.
The centre hosts an array of shows and concerts all year round and is open daily, with at least one visual art exhibition on show.
Visit: www.ballinaartscentre.com | Call: +35396 73593
---
8. See rural Ireland at its most fascinating at the National Museum of Country Life
It's not quite in North Mayo, but no visit to County Mayo is complete without stopping by the only national museum located outside Dublin – the National Museum of Ireland – Country Life at Turlough, just 10 minutes outside Castlebar on the N5.
Immerse yourself in the unique stories, rich heritage and the fascinating cultural traditions of our rural ancestors across four floors of exhibitions in this lovely building.
You can also enjoy a walk around the grounds, and relax over a cuppa in the quaint on-site coffee shop.
Visit website | Call: +35394 903 1755
---
9. Take a tour of Blacksod Lighthouse
Blacksod is a rare opportunity to visit a working lighthouse. Visitors can now enter the lighthouse by guided tour and climb its tower. This immersive experience will bring alive the incredible story of how a young Maureen Sweeney changed the course of history by issuing a weather forecast prior to the D-Day landings.
Blacksod Lighthouse has steadfastly stood shining bright over Blacksod Point for over 150 years. Although it's now fully automated, storykeepers have taken over the reins of this great lighthouse.
Guided tours will take you through the new visitor centre, bring alive lighthouse life as it was for the keepers and their families, and guide you through the rich history of Ireland's great lighthouses and aids to navigation.
Enjoy a coffee after your tour at the adjacent Coffee Pod and stroll along the working Blacksod Pier – or take a trip to the nearby Inishkea Islands, if the weather permits!
---
10. Trace Ireland's history and see an original copy of the Irish Proclamation at Ballina's Jackie Clarke Collection.
The beautifully restored Georgian building showcases one man's astonishing collection of over 100,000 historic items spanning 400 years.
From maps to pamphlets, political posters to personal items, books, newspapers and of course, the Jackie's prized Proclamation, this collection has everything, including artefacts associated with Theobald Wolfe Tone; letters from Michael Collins, Douglas Hyde, Michael Davitt and O'Donovan Rossa.
The Collection also boasts a beautiful walled heritage garden, an oasis of green in the heart of Ballina.
Visit: www.clarkecollection.ie | Call: +35396 73508
---
11. Make a splash with the kids at Waterpoint, Enniscrone
Neighbouring seaside town Enniscrone is just a short spin from Ballina. Whizz down the 65-metre flume waterslide, climb the climbing wall or just relax in the jacuzzi, steam room or sauna.
Visit: www.waterpoint.ie | Call: +35396 36999
---
12. Find some peace at the Fr Peyton Centre, Attymas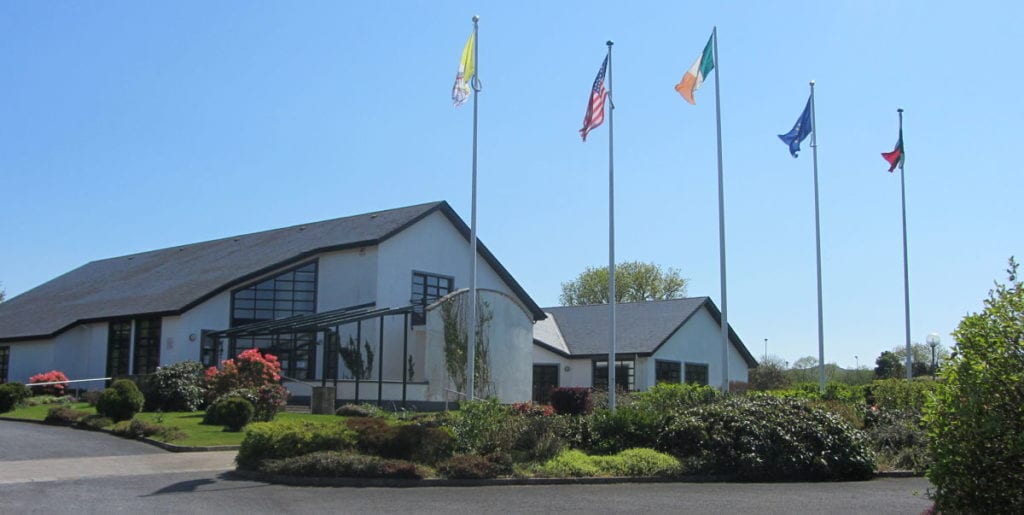 The Fr. Peyton Memorial Centre tells the incredible story of the Rosary Priest. Fr. Patrick Peyton, who, grateful for a miraculous recovery from tuberculosis in his youth, began the Prayer Crusades in the 1940s, which took him all over the world preaching the importance of prayer, especially family prayer.
Fr. Peyton addressed an incredible 26,450,000 people during his prayer crusade years, and pioneered the use of mass media on a global scale to spread his message of prayer. He even staged hundreds of radio and television shows with Broadway and Hollywood stars taking part.
Today, the Fr Peyton Centre, an oasis of peace and calm near the Ox Mountains tells Fr. Patrick's story on its guided tour using multimedia, and offers retreats to pilgrims. It also serves as a community hub and social enterprise, and is a popular base for walkers exploring the Attymass Loop Walks which start from the car park. The home baking in its café is second to none – the perfect treat for weary hikers.
Visit: www.frpeytoncentre.ie | Call: +35396 45374
---
13. Trace your roots at the North Mayo Heritage Centre
This small genealogy centre and museum in the grounds of Enniscoe House showcases an impressive array of local farm and household artefacts from days gone by. The genealogy centre helped former US vice-President and current Presidential candiate Joe Biden to trace his roots to North Mayo, and you can trace yours too!
If you get a break in the clouds, you can also take in the scenic 5km loop walk which brings you through the estate woodlands and to the edge of Lough Conn.
Enjoy home baking in the tea rooms, and visit the Organic Gardens, where you can also buy the freshest of in-season organic fruit vegetables.
Visit: www.northmayogenealogy.com | Call: +35396 31809
---
14. Explore an incredible collection of contemporary Irish art in the newly opened Ballinglen Museum of Art, Ballycastle
Brand new to our list of attractions in North Mayo. Ballinglen is a beautiful art museum and gallery space in Ballycastle. It will showcase the 800+ works of contemporary art which form the Ballinglen Permanent Collection. Subsequently, this collection has become one of the most significant collections in Ireland.
Since 1992, hundreds of artists from around the world have visited Ballinglen on month-long residencies or Fellowships. They have created art inspired by the wild, rugged North Mayo landscape and coastline.
Open 12pm – 5pm, Monday – Sunday.
Visit: www.ballinglenartsfoundation.org | Call: +35396 43184
---
15. Learn about the first farmers at the newly revamped Céide Fields Visitor Centre
The incredible neolithic site at Céide Fields is located atop the spectacular sea cliffs near Ballycastle County Mayo, Ireland. It contains the oldest known stone-walled fields in the world – dating back an incredible 6,000 years. The fields lie buried beneath a blanket bog landscape that is also of immense ecological importance.
The site is one of the most historically significant on the planet. The award-winning visitor centre offers breath-taking views of the Céide Cliffs.
The visitor centre re-opened with a brand new immersive, interactive visitor experience in June 2022, and guided tours are available.
Visit: heritageireland.ie/places-to-visit/ceide-fields | Call: +35396 43325
---
Or … you could just embrace the unpredictability of a rainy day in Mayo! Wrap up and get stuck into an outdoor adventure – after all, skin is waterproof! And who knows, the sun may even put in a surprise appearance!