A group of restaurants in North Mayo has come together to promote the great food offering within the region, and in doing so, are highlighting the use of local ingredients and their relationships with Mayo artisan producers and indeed, those from further afield in the West of Ireland.
On 25th, 26th and 27th of November 2016, visitors to a number of restaurants in Ballina could order a special dish in each restaurant using a local artisan ingredient – black pudding from Brickens-based Andarl Farm. A new ingredient will be selected each month.
The focus on food is part of a wider programme initiated by us here at MayoNorth.ie to promote this region as a tourism destination, alongside Moy Valley Resources and Ballina Chamber, and is being driven from the ground by a number of local chefs and producers. Other projects on the group's agenda for 2017 include the development of food trails, festivals, demos, front of house training and children's cookery events.
We know from recent research conducted on behalf of Failte Ireland that good food experiences are incredibly important to tourists both before and after their visit. This initiative aims to give our visitors a great food experience and a real sense of "place on a plate" when they visit Mayo by showcasing our many great local ingredients and Mayo artisan producers.
About Mayo Artisan Food producer Andarl Farm 
The black pudding is produced by Dave and Diana Milestone of Andarl Farm, near  Claremorris, who spent three years seeking out the right breed of pig in order to get the fat-lean ratio they wanted in their meat. Starting with Doris, a Great White Sow, they eventually purchased Harry, a Hyroc boar, a cross between a Duroc and a Pietrain, to breed with their Andarl Farm sows.
The result is something they call Velvet Pork. Tender, sweet and subtle, it cooks perfectly regardless of methodology.
Andarl Farm is now recognised as one of the finest Mayo artisan producers, and Dave Milestone said: "We're delighted to be part of this initiative. Working with local producers means the food on your plate is of a higher quality, isn't compromised by travelling long distances and most importantly you can always tell where your food comes from! It also creates and supports employment locally which is so important in the west of Ireland."
Sample dishes
The variety of dishes on offer showcased the versatility of local ingredients, and here are just some examples of what was on offer.
Chef Jonathan Reeves of No. 45 @ Brennan's Lane offered Quail stuffed with Andarl Farm black pudding, served with sautéd wild mushrooms and a berry jus.
Chef Anthony Holland of the Ice House Hotel added the following dish as a starter to their menu:  Andarl Farm Black Pudding, Almond & Scallion Croquette, with Apple & Rosemary Puree, Apple Salad.
The Broken Jug served up Braised Lamb Shank with Andarl Farm Black Pudding, Garlic Mash, Thyme & Red Wine Jus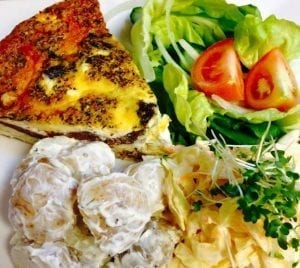 At The Post House , you could avail of Andarl Farm Black Pudding and Goats Cheese Tart.
Participating Restaurants
The following restaurants participated in the first #MayoFood initiative showcasing Mayo artisan producers:
– Dillon's Bar and Restaurant, Dillon Terrace
– Luskin's Bistro and Wine Bar, Dillon Terrace
– Ice House Hotel, The Quay, Ballina
– The Library Restaurant at Belleek Castle
– Heffernan's Heifer and Hen Restaurant, Market Square
– No. 45 @ Brennan's Lane, Tone Street
– The Kitchen Restaurant at Mount Falcon, Dublin Road
– The Brosna Restaurant at the Twin Trees Hotel, Downhill Road
– The Loft Bar, Pearse Street
– The Post House, John Street
– The Broken Jug, O'Rahilly St.
–  Crockets on the Quay, QuayRoad.
Any restaurants or suppliers in the region interested in becoming involved in the development of this food tourism initiative in the coming months can contact info@mayonorth.ie for further information.