---
T2 Coffee Van is a late bay Volkswagen T2 Classic Van from 1976, converted into a Vintage Specialty Espresso Bar. Founded by Leo Munteanu, T2 offer espresso type coffee, teas and refreshments. They aim to use only the finest local products.
The business first started in 2019. In this respect, it is still relatively new. However, in this short time has become a firm favourite with coffee lovers in the West of Ireland. You have probably spotted them at festivals, on Enniscrone Beach during summer time or at Ballina Farmers Market on Saturdays.
T2 strive to bring that perfect cup to you and your guests and cares very much that you receive the best possible product.
T2 Coffee Van is a business that was born out of passion for the hospitality industry… and for good coffee. They think that a freshly brewed cup of coffee can put a smile on almost every face, be it at the beach or in the middle of an eventful day, such as your wedding day.
Their specialty coffee is roasted by Carrow Coffee, one of the most respected coffee makers in Ireland. This allows them to create flavours that suit every taste – Intense, Light ,Smooth, Crema or rich. See a list of some of T2's suppliers below:
---
​Events and Weddings
Awarded the prestigious title of "Mobile Bar / Food Truck Supplier of the Year" at the 2022 Weddings Online Awards, T2 are highly sought after for weddings and functions. ​T2 Coffee will happily cater for your private or corporate event in the West of Ireland. If you're looking for something 'different' for your wedding day why not consider T2 Coffee to be part of your big day and provide services for your guests.
T2's standard services for weddings is what they like to call After Church Coffee Receptions – as you and your partner step out of the church, happily married, followed by your guests, the T2 Coffee Van will await in the Church yard and will greet you with barista style coffee (made to order) and delicious treats.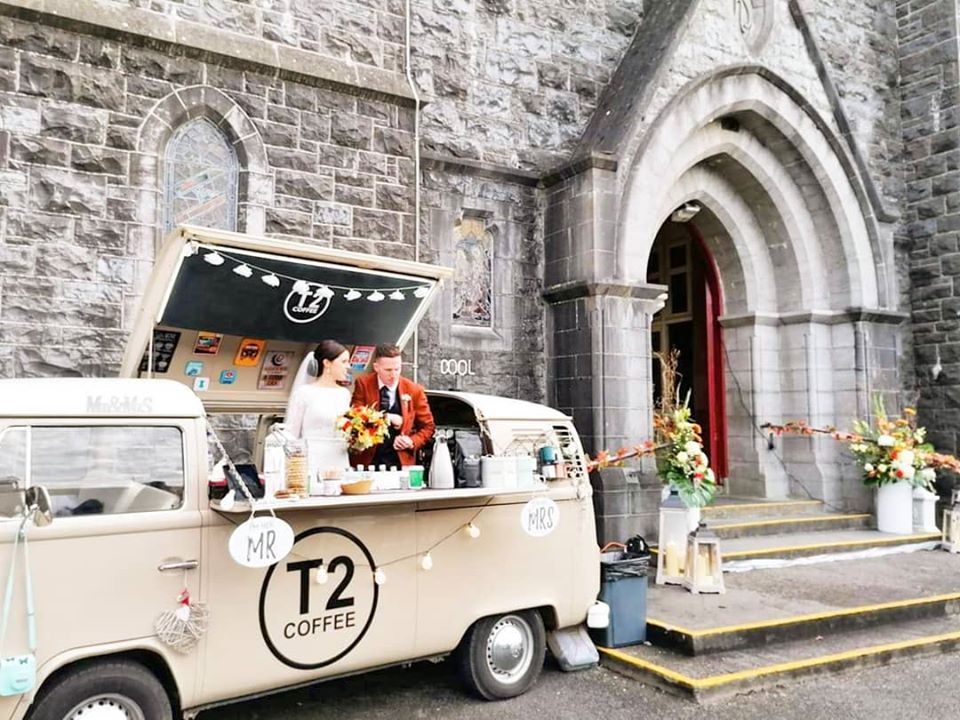 During the Summer season, this award winning coffee hub will be parked on Enniscrone beach where they will be serving organic local coffee from Beltra, Sligo and award gold bord bia winning treats.
---
​Contact T2Coffee Van
Visit: www.t2coffeevan.com | Email: [email protected] | Call: +353 (0)89 2074590
Facebook: T2 Coffee Van | Instagram: t2coffeevan
​