---
February 2019: The Táin Bó Fliodhaise Cattle Raid (a réamhscéal, or prequel to the great Irish saga Táin Bó Cuailnge) is an exciting and adventurous but little-known Celtic mythology saga set around the 1st century A.D., or perhaps earlier, which takes place in County Mayo, primarily the Erris area in the north-west of the county. It is one of several Táin tales from Ireland, documented in ancient Irish manuscripts by medieval scribes. Unfortunately, some of these manuscripts are in very poor condition, not to mention those that have been lost over time.
Now, a local committee has painstakingly documented this story, and it is available in a beautifully written book written in both English and Irish.
A story with two versions
There are two versions of the story in existence. One is an early or short account from the old Irish period. The other is a longer, more comprehensive version in classical Irish taken from the 15th century Glenmasan Manuscript which is held in the Advocates Library in Edinburgh, the National Library of Scotland. This is thought to be a transcript from an earlier manuscript of the same name.
During the early years of the 20th century the entire story was translated from Gaelic into English by Professor Donald MacKinnon, and published over four volumes of a Scottish historical publication known as The Celtic Review. It is this telling of the story that forms the basis for this book.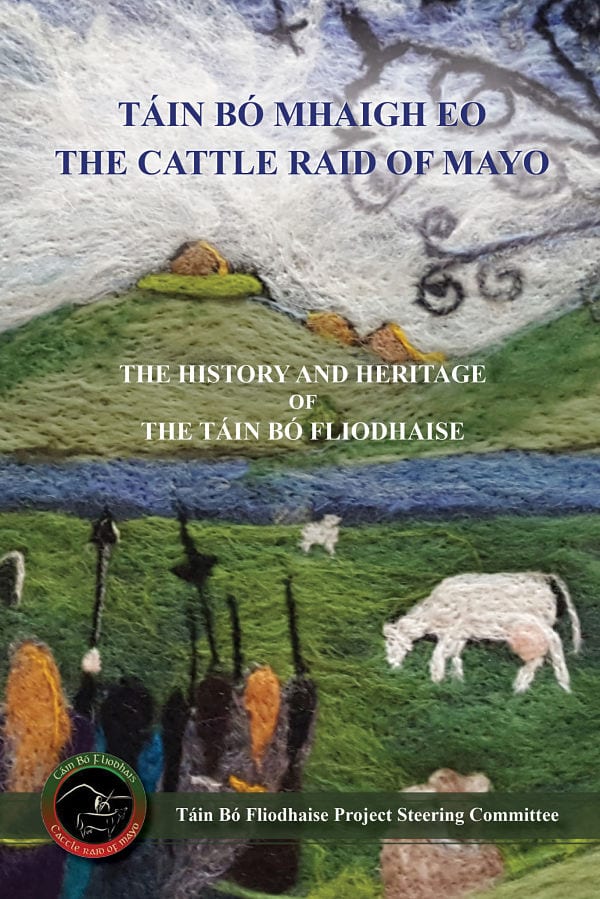 There are also local versions of aspects of the story, which have passed down from generation to generation in oral folklore, where some of the characters have alternative names. Some of these are documented in the manuscripts of the Department of Irish Folklore U.C.D. (for example Bailiúchán na Scol).
The Story
The story itself describes how a tribal people known as the Gamhanraidh (a people of the Fir Boilg, less privileged than the dominant Gaeil) ruled a large swathe of the west of Ireland stretching from Limerick in the south to Erris in the north and eastwards to Drobhas. Their king Oilill Fionn (Oilill the Fair), son of Dónall Dualbhuí of Glencastle, was married to a beautiful woman called Fliodhais or Fliadhais. They were a wealthy and prosperous people with large herds of cows and cattle. One in particular, the Maol or hummel cow, was reputed to supply enough milk daily for three hundred men, their wives and children.
Following a series of bloody battles and ravages in Ulster, Fergus Mac Róigh (a well-known hero from the Ulster Cycle of tales) and his followers fled southwards seeking protection. He was welcomed by Queen Medhbh and her husband Ailill Mac Mata at Ráth Chruacháin (Rathcroghan) in County Roscommon, the royal seat of Connacht. She subsequently embarked on an affair with the visitor.
After some time however, their presence was placing a heavy burden on the hosts' resources, and Fergus decided to send the scheming bard Bricriu westwards to Dún Átha Fén in Mayo, the stronghold of the King Oilill Fionn, to seek wealth from the Gamhanraidh.
Upon his return to Ráth Chruacháin, Bricriu was fulsome in his praise of Oilill's palace and wealth. He also bore a message from Fliodhais where she put Fergus under a 'geis' or prohibition to carry her away with him from the fort of Ráth Muireagáin near Glencastle.
Fergus and his warriors the Dubhloingeas ventured west where they received a warm welcome as Celtic tradition dictated and were royally entertained. When the real purpose of their visit became evident to Oilill a series of fights and battles broke out. Fergus was captured and held prisoner at the fort of Ráth Muireagáin. Bound and trussed up, he was exposed daily and ridiculed by the Gamhanraidh.
From the royal seat of Connacht, Queen Medhbh planned revenge and set out with her vast army, and the Men of Ireland who had gathered at Cruachán in preparation for the raid on Ulster (i.e. the Táin Bó Cuailnge).
Their route took them westwards through open terrain by Ballyhaunis, Kilkelly, Nephin, Castlehill (where Dún Átha Fén was located), Moygownagh, Glencalry, Glenamoy, skirting Carrowmore Lake, to reach their destination at Ráth Muireagáin. Along the way there were many tribal skirmishes and single combats with local warriors – Nochta at Nephin, Torna at Lahardaun, Muinchinn at Lake Leitreach (now known as Carrowmore Lake) etc.
The invading army arrived at the fort at Ráth Muireagáin to discover that several of the Gamhanraidh tribes had gathered here in force. Medhbh deployed another tactic and bribed some of the other Gamhanraidh chieftains, informing each one that she would offer him the kingship of the Gamhanraidh and her friendship if he would withdraw his support of Oilill. Each chieftain believed the offer was exclusive to him alone. All agreed to stand back.
Many days of fierce and brutal fighting took place with the slaughter of thousands of warriors. Meanwhile inside the fort Fergus boasted to Oilill that if he were released the fort would be destroyed and the Gamhanraidh roundly defeated. In a moment of weakness, Oilill freed the prisoner who re-joined the invading army.
For seven days thereafter Fir Éireann attacked the fort and hundreds of warriors were killed on both sides. Oilill and his small band of warriors doggedly and bravely defended their fort but were eventually outnumbered.  He retreated north to Barr na Trá where he had been assured that his steward Ciortán would be waiting in the bay with his ship in readiness for his escape.  He battled his way bravely, with his surviving followers, to the designated meeting point only to be betrayed once again.  Ciortán accused him of seducing his wife and, in spite of Oilill's protests to the contrary, he sailed the ship away from shore leaving Oilill and his company stranded.
The two warriors engaged in a long and hard battle until Fergus, with his enchanted sword, overcame and killed the valiant Oilill. He carried his severed head back to Ráth Muireagáin as a trophy for Fliodhais, who shrieked in horror. As the result of her actions dawned on her she became full of remorse and lamented loudly her husband's death. Fergus brought her with him against her will, and the cattle herds were rounded up to begin the journey back to Ráth Chruacháin.
The Maol cow had lain down when her master was slain and refused to join the rest of the plundered herds. No amount of enticement or force, including being struck repeatedly by Fergus with the flat of his sword, would make her rise to her feet. Her groans and bellows were said to be heard throughout the province. It was only after Bricriu intervened with coaxing words that she stood and led her herd away.
When word of Oilill's violent death reached his father Dónal Dualbhuí in Glencastle he mustered the chieftains of the Gamhanraidh, who by now had become aware of Medhbh's deception, to come to his aid and seek revenge. They gathered their forces and pursued the retreating army mercilessly, inflicting great losses on them as they withdrew eastwards from Erris. Dónall and his ferocious war hounds slaughtered and beheaded all in their path. He finally caught up with Fergus, who with the power of the enchanted sword, killed him in single combat.
Oilill Fionn's son Muireadach the Stammerer arrived with a force of men from Nephin. He succeeded in routing the enemy, and returning Fliodhais, the Maol and the rustled cattle herds back to Ráth Muireagáin. After receiving a hero's welcome he became the new King of the Gamhanraidh. Medhbh and her army limped back to Roscommon, battle scarred from their encounters with the chieftains and warriors of Erris. And so, this fascinating epic draws to a close.
Background to the Táin Bó Fliodhaise project
Over two years ago a voluntary committee (under the auspices of Comhar Dún Chaocháin Teo in Ceathrú Thaidhg) whose members are Anthony Brogan, Jim Henry, Treasa Ní Ghearraigh, Niall King, Diana Taylor, Micheál Ó Seighin, Caitlín Uí Sheighin, P.J. Lynn, Jim Gilvarry, Uinsíonn Mac Graith, Pat Mc Loughlin and Billy Lyons, was set up to highlight and create an awareness of the Táin Bó Fliodhaise – the Cattle Raid of Mayo.
To date, the committee has organised festivals and created links with the community of Argyll in Scotland where the story was written by Medieval scribes in the Glenmasan Manuscript. The committee recently organized an art exhibition and published a book which it hopes will bring the epic story to a wider audience. Published by Comhar Dún Chaocháin Teo the book has received funding from Údarás na Gaeltachta under the Fiontar Pobail 2018 scheme, from Mayo County Council and from Councillor Teresa Whelan under the 2018 Community Fun
Official Launch of Project
The official launch itself was threefold commencing with a slideshow presentation by Anthony Brogan who gave an overview of the project's history and heritage. This was followed by the launch of the book entitled 'Táin Bó Mhaigh Eo The Cattle Raid of Mayo – The History and Heritage of The Táin Bó Fliodhaise' by well-known journalist and broadcaster Liamy McNally.
Published by Comhar Dún Chaocháin Teo, the book received funding from Údarás na Gaeltachta, Mayo County Council and Councillor Teresa Whelan under the 2018 Community Fund. The evening concluded with the launch and presentation of the art exhibition 'Landscapes of the Gamhanraidh in Erris and Beyond' with artworks by Diana Taylor, Anthony Brogan and schoolchildren from Gleann na Muaidhe, Ros Dumhach and Ceathrú Thaidhg National schools depicting the landscapes, sites and scenes associated with the story.
Buy the book:
The book is available from committee members:
Call Jim Henry, committee member: 087 2144483
---
Sincere thanks to Treasa Ní Ghearraigh, Rúnaí Táin Bó Fliodaise Committee and the entire committee for their hard work and for putting together this summary for our website.