---
Steeped in rich heritage and historical importance, pretty Killala offers the local and visitor alike both a wild and tranquil experience. Whether it is walking in the same steps of the 1798 Rebellion or discovering one of the many hidden golden strands, Killala and its surrounding areas, nestled along the North Mayo coast on the Wild Atlantic Way has much to offer for all. See below to discover the top ten things to do in Killala.
---
1. Soak up Killala's ecclesiastical history
In Killala you are surrounded by history, heritage and archaeology at every turn. Ramble around the town and see Killala Round Tower, St. Patrick's Cathedral, graveyard & souterrain. Spot the green historical place plaques identifying buildings of historical importance. Explore the Neolithic landscape from Carrowmore Lacken to Céide, and try to imagine living here 6,000 years ago as the first cultivators did!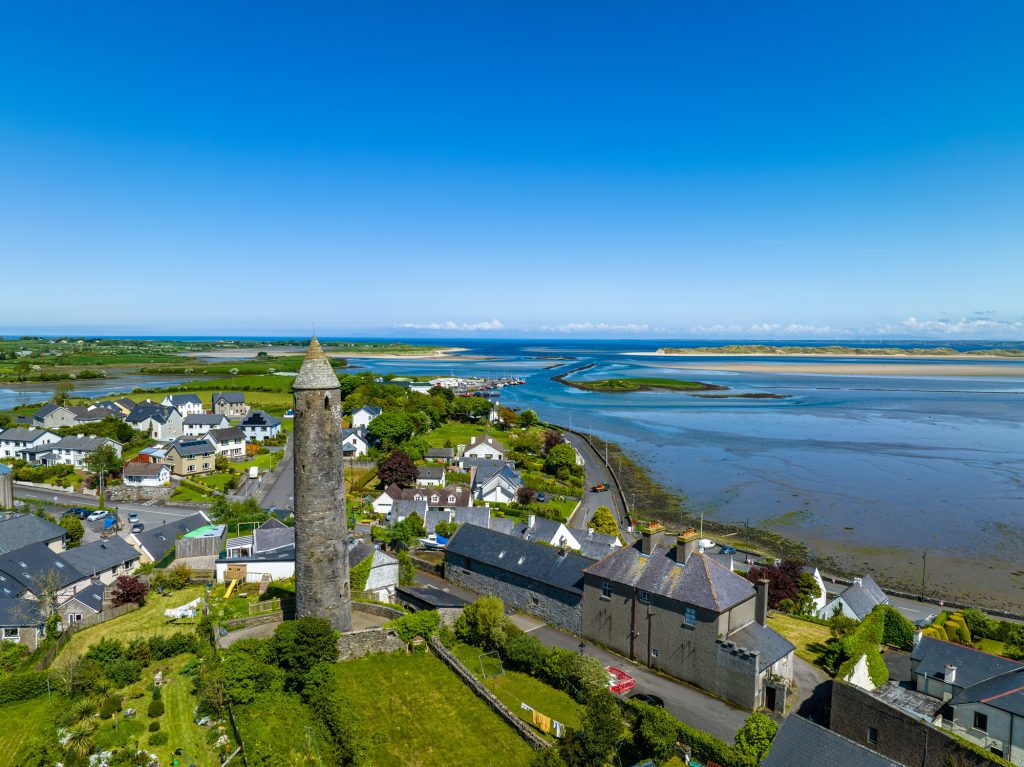 ---
2. Cast a line under amazing Mayo skies
Killala is a fishing paradise, rich with maritime history. Hire a rod and reel for shore or beach angling, or try a day of deep-sea angling for a multitude of species on glorious Killala Bay. There is excellent sea trout fishing along the coastline – bring the kids and head for Lacken or Kilcummin Pier. Stroll along the winding shores of Palmerstown River, watching for kingfishers and dippers as you cast for trout and salmon.
Check out our pages on Sea Angling in Killala and the complete guide to Fishing and Angling in North Mayo and West Sligo. For a full list of fishing guides and instructors in Mayo, please visit the Inlands Fisheries website here.
---
3. Things to do in Killala – On your bike!
Explore the Wild Atlantic Way with the sun on your face and the wind at your back.
Cycle the Killala to Ballina Greenway and explore the Monasteries of the Moy – Rathfran, Moyne and Rosserk, while taking in Tobar Mhuire Holy Well at Rosserk; spin to Kilcummin and step back in time at St. Cummin's Church with its ancient graveyard & Holy Well, while enjoying stunning coastal views.
Don't have your own bike? That's no problem, Ballina Bike Hire are just 20 mins away from Killala, based in the Quay's Ballina, they have a range of top quality bikes for hire for the whole family.
If you are planning on exploring the North Mayo coast by bike, check out our page Explore Mayo Norths Many Cycling Trails. For more about the Abbeys of North Mayo, check out our dedicated Abbeys of North Mayo page here.
---
4. Enjoy secret beaches, golden sands and clear blue seas
A visit to Ross Strand is one of the best things to do in Killala. This strand is a fully serviced beach with lifeguards (high season), picnic area, parking, WCs and shower facilities – don't forget to bring your buckets and spades! Head to the vast Lacken Strand for some kitesurfing or find your own spot of deserted beach. Hire kayaks for a fresh new perspective, or try scuba/snorkel diving and surfing at Kilcummin. Find your inner calm with beach yoga on cool summer mornings.
Killala is also great for kayaking, yoga and diving, so be sure to check these out on your journey.
---
5. Forage for your food along the coast
Take a guided tour, including wild food foraging and outdoor feasting in one of the most scenic parts of the country. Feed your body and sate your curiosity on one of Denis' foraging forays, all of which culminate in a seafood feast. Or spend a few hours with the kids on a family foraging trip to Bartra Island.
Tel: Denis +353 83 0241570 | Email: [email protected] | Visit: Wild Atlantic Cultural Tours
---
6. Walk right back to happiness:
One of the top things to do in Killala is to enjoy one of the many walking routes on offer. These include the Kilcummin Loop walk – follow the arrows from Kilcummin Head, along the rocky shoreline and onto the vast strands of Lacken back beach sand hills, passing two of the Tír Sáile (North Mayo Sculpture Trail sites), and find amazing fossils on the headland!
Try the Ross Loop (left from car park) and enjoy an hour's walk/gentle climb past the coastguard station, along tiny deserted beaches before arriving at the glorious CBI beach, then back through the dunes to the road and back to Ross.
Visit: North Mayo Walking Trails
---
7. Explore the French and Yeats 1916 Connections
Learn about the fascinating heritage of the town that played a big part in the 1798 Rebellion by reading up on some local history like Stephen Dunford's 'In Humbert's Footsteps: 1798', or Guy Beiner's 'Remembering the Year of the French'. Make sure to visit gorgeous Kilcummin Harbour where General Humbert landed with 1,100 French soldiers to support the Irish in their revolution – you can even see the stone on which he first set foot.
---
8. Grab a bite to eat
Killala offers an amazing selection of places to eat including The Kiosk Cafe, The Acres Killala And The Arch Bar & Grill Killala.
The Kiosk Killala is located on Market Street and serves breakfast, lunch and light bites. They are open 7 days a week during the Summer season. Sunday and Monday, the menu will consist of Coffee/Tea, scones pastries and desserts. The remainder of days, a full menu will be available. Lunch specials are on offer between 12 noon and 4pm.
The Acres Killala, is a family-owned bar, café, restaurant, and accommodation offering you the best of Irish food, tradition, and hospitality – located within walking distance from all of the town's amenities. A daily breakfast and lunch menu is available from 9 am until 2 pm in The Acres Café. Enjoy a full homemade menu, tea, coffee, and daily homemade bakes. The dinner menu is served from 6 pm to 9 pm Thursday – Sunday. You will have lots of choices including daily fresh fish, prime Irish beef steaks, Irish chicken, and a choice of vegetarian and gluten-free dishes.
---
9. Bring a song to share:
Enjoy an evening of folk music, song and story at the Killala Bay Folk Club (first Friday of the month). Listen to local traditional, bluegrass and rock music at the weekend in the friendly, welcoming local pubs. Try your hand at bingo on Wednesdays at Killala Community Centre.
Killala Bay Folk Club: Killala Bay Folk Club
---
10. Check out the Killala Live Festival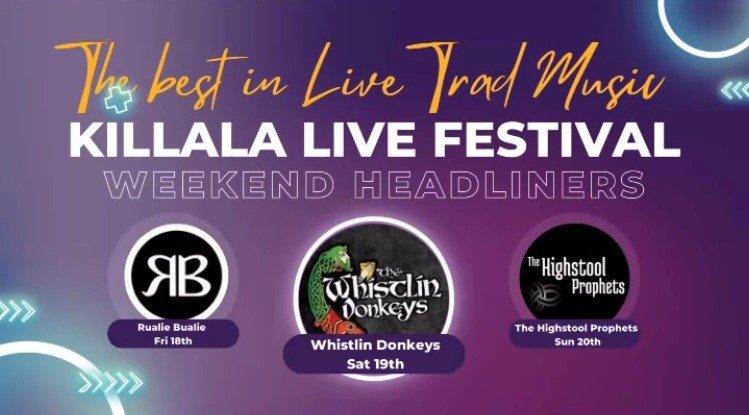 During the summer, festivals take place regularly around the region, and every August, you can jive to the best Irish country music at Killala Live Festival. This years Killala Live Festival takes places from the 16th – 20th August 2023. Establishing itself as one of the great festivals and events in North Mayo, the headline act – The Whistling Donkeys will play on Saturday 19th August. Ruaile Buaile will also play a free outdoor gig on Friday the 18th in Killala. There will be a host of other entertainment and activities over the festival, so keep an eye on the Killala Live Events Facebook page for more.
---
Other things to do in the area
There is so much to do in this beautiful quaint village. The above is just a selection. Don't forget if you have children, why not let them run, climb, swing and have a great time at the new playground, tennis and basketball courts at Killala's town park. Feed the ducklings and look for unusual birds along the protected shoreline. Take part in one of the regular kids/adults aquathlons from the small pier, and enjoy an autumn night swim.
If you are looking to explore the area and surrounds a little further, why not check out our guide to the 15 great things to do in North Mayo.
---