---
Enniscrone is a short drive from Ballina and has many fun things to see and do. Here is just a taste of what Enniscrone has to offer!
For a full round-up of local Enniscrone information, visit www.discoverenniscrone.com.
Our top ten activities in Enniscrone
1. Surfing in the Atlantic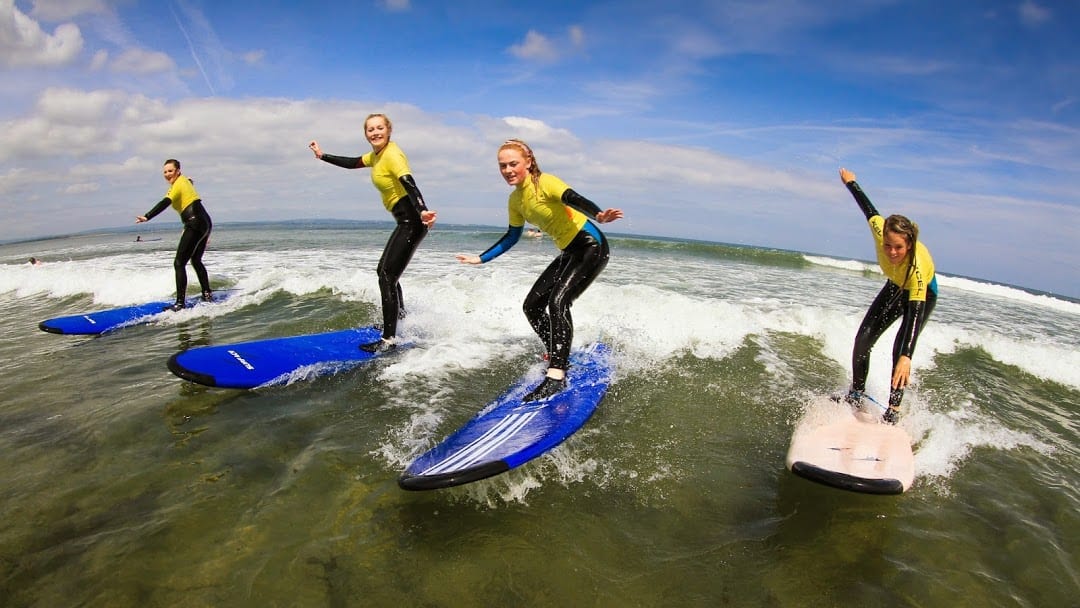 Weather you're a beginner or professional honing your skills, you'll find some waves to tackle. Enniscrone has a number of surfing schools all excellent in their own right. During the summer they run surf schools – a must-do for kids.
7th Wave Surf School
W: www.surfsligo.com | E: [email protected] | T: +353 87 9716389
North West Surf School
W: www.nwsurfschool.com | T: + 353 87 9595556
Buy your wetsuits at The Wetsuit Company, Main St
W: www.thewetsuitcompany.ie | T: + 353 83 018 6088 | Instagram.com/thewetsuitcompany
---
2. Walking or running on Enniscrone Beach (or the Coastal Loop Walk)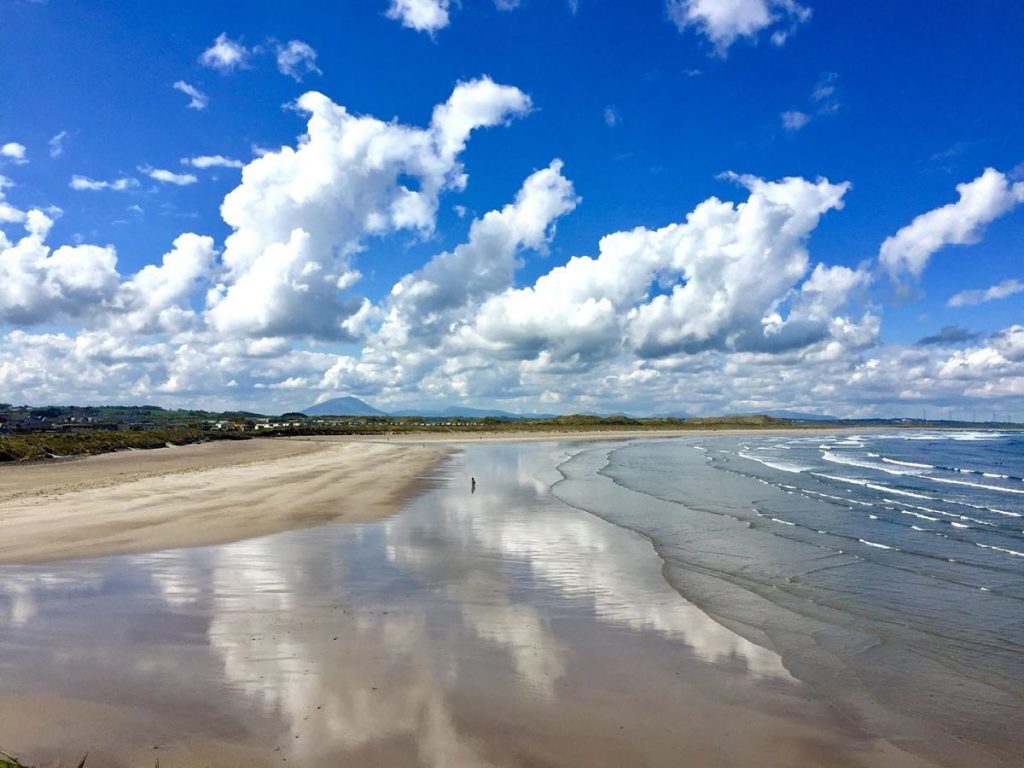 The amazing golden sandy beach of Enniscrone boasts over three miles of a walk or if you're feeling energetic, a run. You'll feel truly energised and refreshed and why not dip your toes in the water as you stroll along? The beach in Enniscrone is always a hub of excitement throughout the year so keep an eye for many events taking place from festivals, runs and much more.
The Enniscrone Coastal Loop Walk
Want to avoid the sand? The Coastal Loop Walk starts from the Pier and takes in a gentle scenic loop of just under 2km, with lovely sea views. More information here.
Always remember to Leave No Trace when out walking, keep dogs on a lead (and please, clean up their poop!)
---
3. Stand Up Paddle Boarding
Enniscrone has a fabulous pier where you can look forward to many activities, but one to try out on your visit is stand-up paddling. Catering for individuals or groups up to 24, fun will definitely be had. Harbour Sup and Sail offer activities both in Enniscrone and Ballina.
Harbour SUP and Sail
W: harboursupsail.com | E: [email protected] | T: +353 86 0315737
---
4. A Swim and Sauna at the Pier
Summer is when the pier really comes into its own, but with the rising popularity of sea swimming, there are daily dippers all year round. Beside the Pier, you"ll often find the More to Life Adventures mobile sauna. A dip in the cold sea, followed by a hot sauna, repeated a few times will leave you feeling like a new person.
Best way to book is to contact Tony via Instagram: www.instagram.com/sauna.hire.
---
5. Soaking in the Seaweed Baths
You can't go to Enniscrone without venturing to Kilcullen's Seaweed baths, a guaranteed experience that will leave you refreshed and relaxed. If you're not up for a bath a visit to the baths to experience the building is well worth it. The doors opened in the baths back in 1912 the year of the "Titanic", for over 100 years and into the fifth generation of ownership, the Edwardian charm of this building is a most see. Opening hours are seasonal so calling ahead is advised. Kilcullen's Seaweed Baths
W: www.kilcullenseaweedbaths.net | E: [email protected] | T: +353 96 36238
---
6. Archaeological and Historical interest
Enniscrone isn't short on delivering history from right in the heart of the village to the dunes on the beach. Just situated on the parameters of Enniscrone is the black pig a story steeped in history and culture. From O' Dowd's Castle, to ring forts exploring years and years of history Enniscrone has it. Are you brave enough to venture up the Hill of Bodies? It's a hill, near the Valley of Diamonds, known as Cnoc na gCorp (hill of bodies) which according to local legend, was formed from the pile up of bodies of Vikings in 891!
---
7. Waterpoint Aqua Park
Included in our list of top ten activities in Enniscrone, is the fun packed aqua park with kids pool area, main pool, Jacuzzi and steam rooms, 65 metre flume water slide. Also including the brand new water inflatable timetabled in the main pool. If you're still feeling energetic they also have a state of the art gym, a comprehensive fitness time table and personal trainers. Once you've experienced all that Waterpoint has to offer you can sit back in their refreshments area and plan your next visit.
W: www.waterpoint.ie | E: [email protected] | T: +353 96 36999
---
8. Walking and Cycling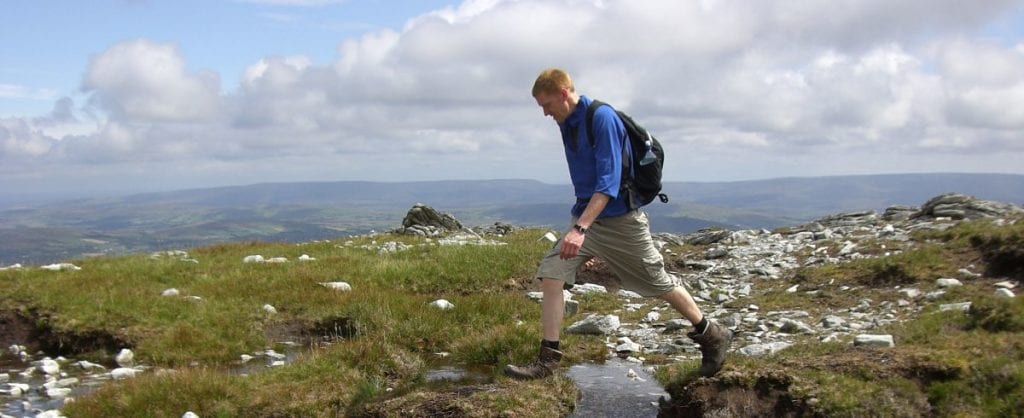 If it's a stroll on the beach or a trail you'd like to follow your days will be action packed in Enniscrone. The village has a very active walking group which anyone can join up with and on Saturdays they do a walk, meeting at 9.30am at the Enniscrone Tourist office. You can check out their schedule on www.enniscronewalkingclub.ie.
Bike hire is available locally catering for all the family from Ballina Bike Hire
W: www.ballinabikehire.com | E: [email protected] | T: +353 85 1108969
---
9. Fishing
Are you looking to catch your dinner or maybe spot a shark, then why not head out on a boat trip? Enniscrone offers day trips out on boats or you could drop a line if you're feeling lucky off the Pier in Enniscrone. Whether you're a serious angler or a novice looking to spot some dolphins head to Enniscrone Pier, they cater for all group sizes.
Visit: Donal Kennedy Angling Charter | Tel: 086 817 4509
---
10. Golf and Pitch & Putt
Enniscrone, Co. Sligo near North Mayo caters for the professional and fun side of golfing with both a world renowned championship links golf course and a 18 hole pitch and putt course. Weather your starting out in your golfing aspirations or you're a seasoned pro the Enniscrone Golf Course is an exciting fun challenge featuring The Dunes, a 7, 033 yard, par 73 links course you'll be in good company as you navigate your way around the 27 hole link course.
The pitch and putt course overlooks the coastline of Enniscrone and is great family fun for all ages, with 18 holes you'll be well on the way to polishing up on your skills. Equipment is provided and groups are welcome.
Enniscrone Golf Course
W: www.enniscronegolf.com | E: [email protected] | T: +353 96 36297
Pitch and Putt
W: Enniscrone Pitch & Putt | T: +353 96 36788
---
For the little ones ….
Enniscrone boasts not one, but two playgrounds. Enniscrone Playground and Crazy Golf is a lovely modern playground, recently upgraded with new equipment. For a small entry fee, children of all ages can play for hours, drive the go-carts or try their hands at Crazy Golf. The playground is located centrally in The Hollow, alongside the beach and local amusements.
There is also a small community playground available close to Waterpoint.
---
After working up an appetite, enjoy a sweet treat!
Grab a coffee and treat from Leo in T2Coffee Van, who operates from Enniscrone Beach over the weekends in the Summer months. Otherwise, enjoy a '99 from one of the local shops, a coffee and tasty treat from The Sea Bean down at the Pier. Pick from Maple Moose, Surf's Up Café or Gelati for your dessert desires or pop into Caroline's Kitchen for some more baked treats. From award winning ice-creams to delicious pancakes or crepes, each café has its own unique style and flavour.