---
Discover hidden gems, and experience the Real Wild Nature!
The Barony of Erris and Belmullet is a real haven for walks , sea-sports and those with an interest in heritage and culture. In 2014, this beautiful, rugged and sparsely populated area won The Irish Times Best Place to Go Wild in Ireland competition, and was chosen "for its balance of nature, wilderness, beauty, activities and accessibility."
Families too will find idyllic beaches where children can play safely and swim in the crystal-clear and crystal water or enjoy fantastic boat trips and maritime adventures.
Below we've put together our Top Twelve Things to do in Erris, but we promise, when you visit, you will find lots more!
---
1. Explore the history, heritage and culture of Erris at Ionad Deirbhile Heritage Centre
The Barony of Erris is rich in history, heritage and culture. Ionad Deirbhile bilingual centre houses a wealth of information relating to local folklore, archaeology and local history.
In addition to the exhibition area, this beautiful building – clad in local granite – houses a coffee shop and toilets to cater for visitors and the building is also wheelchair-accessible. The centre also presents an account of a former way of life in the Erris region, highlighting the tradition of currach fishing, and the construction methods of old houses native to the area.
A unique feature of the Ionad Deirbhile building, which immediately catches the eye, is a 10 foot (3 metre) high stained-glass window, which illustrates the story of St. Deirbhile, after whom the centre is named.
Amongst the exhibitions at Ionad Deirbhile, you will find a large collection of information in relation to the Blacksod Bay Assisted Emigration scheme (1883 – 1884) by James Hack Tuke.
Did you know?
Nearby is Deirbhle's Holy Well, named after a local saint who devoted her life caring for the sick and the poor. Legend has it that Deirbhile, courted by an unwanted suitor attracted to her beautiful eyes, plucked them out and threw them on the ground. After his hasty departure, she washed her eyes in the well and her sight was restored. To this day, it is alleged that water from the well can cure eye complaints.
To visit Ionad Deirbhile:
Phone: + 353 (0) 97 85727 | Email: eolas@ionaddeirbhile.ie | Website: www.ionaddeirbhile.ie | Google maps lin
---
2. Visit Rinroe Green Coast Beach
This lovely beach looks out across Broadhaven Bay towards the Mullet peninsula beyond and boasts a beach on either side of a small peninsula. Extensive dunes make for a spectacular backdrop to this wild spot.
In June 2019 An Taisce awarded Rinroe beach a Green Coast Award. The Green Coast Award is for beaches which have excellent water quality, but are prized for their natural, unspoilt environment.
How to get to Rinroe Beach
---
3. Roam the Carrowteige Loop Walks
Located in the Gaeltacht townland of Kilgalligan, itself an area full of interesting ancient buildings and forts, you won't find a more spectacular, yet apparently undiscovered loop walk in all of Ireland than the 10km Carrowteige Loop Walk. This walk is one of the finest sustained and remote coastal walks in the West of Ireland with its profusion of precipitous cliffs, chasms, caves, crags and islands.
Starting from the car park at An Seanscoil (old school) in Ceathrú Thaidhg, travel westwards following the blue arrow along An Bóthar Íochtair (Road of the Lower Fort). The green arrows are for a shorter loop walk which will leave your loop as you progress and the red arrows are for the longer Black Ditch Loop.
This beautiful wild off-road coastal walk in a landscape of bog and windswept mountainside with stirring seaward panoramas from towering cliff edges. It's a moderate level walk, following surfaced roadway, bog roads, grassy tracks and paths. It takes you past the Children of Lir sculpture (part of the revitalised North Mayo Art Trail) before heading inland, with a fairly demanding ascent over open ground. Allow about 2.5 hours for the walk.
Also: Carrowteige is the start point for Benwee Head Loop which the Sunday Independent identified as one of the Top 3 Spring Walks in Ireland!
Find the starting point:
Google Map link to Trailhead Start Point: An Seanscoil (Old School) car park, Carrowteige
Carrowteige Walk Map and route information | A great account of the walk of legends and clifftops by Anthony at Mayo.me.
---
4. Be at one with nature in Wild Nephin Ballycroy National Park
Wild Nephin Ballycroy National Park was established in November 1998. It is Ireland's sixth National Park and is located on the Western seaboard in northwest Mayo. To the west of the mountains is the Owenduff bog. The Park is also home to Ireland's first International Dark Sky Park, and showcases some of the darkest, most pristine skies in the world.
Wild Nephin Ballycroy National Park is home to one of the last intact active blanket bog systems in Ireland and Western Europe, an important scientific and scenic feature of the National Park.
The Park also protects a variety of other important habitats and species. These include alpine heath, upland grassland, heath and lakes and river catchments. Some of the important fauna found within the Park are: Greenland White-fronted geese, Golden plover, Red Grouse and Otters are .
On a clear night here in Mayo, you can see over 4,500 twinkling stars, along with other planets in our solar system, The Milky Way and even meteor showers all with the naked eye.
Visit Wild Nephin Ballycroy National Park
Telephone: +353 (0) 98 49888 | Visit: www.ballycroynationalpark.ie | Email: ballycroyvisitorcentre@chg.gov.ie | Google Maps Link
---
5. Explore the trio of Porturlin, Portacloy and Rossport
We're cheating a bit here by including three places in one, but they're all close together and all well worth stopping by.
Porturlin
The rugged little fishing village of Porturlin is nestled in a deep inlet right on the edge of the Atlantic Ocean. There are wonderful coastal trail walks both east and west of Porturlin. The coastal trail to the east links right back to Belderrig, which is roughly a half day's walk away. As you walk, be aware of the dangers posed by cliffs and high winds. Choose your day carefully, prepare well, and walk safely.
If you are interested in photography, try and time your visit to catch the tide either fully in or fully out – but be cautious! If it's fishing your after, you can try your hand casting from the pier, where you can expect to find turbot, pollack, and mackerel.Stunning and beautiful both!
Portacloy
Due to the fact it is totally isolated from its hinterland by large swathes of blanket bog, Portacloy looks today much as it would have looked two hundred years ago. A cluster of traditional cottages look down over it from the lofty heights of its northern headland. Their simple architecture is entirely unadulterated by any veneer of modernity.
Portacloy consists of rutted headlines, broken up by the carved channels of ancient streams. The 18km Portacloy loop walk, starting at Portacloy beach is breathtaking, but great care should be taken when in close proximity to the sea. Portacloy's beach is small, but gorgeously scenic, wonderfully protected from the elements and is perfectly suited to swimming, so bring your swimming gear!
Rossport
The village of Rossport lies on the mouth of Broadhaven Bay. Sruwaddacon Bay, a tidal estuary runs between the village of Rossport and Pullathomas.
Read Anthony Hickey's lovely account of Rambling in Rossport here.
At the mouth of Sruwaddacon Bay you'll find Rossport Ferry. Here you will find a lovely picnic area. Swimming is not advised at Rossport Ferry as there is strong current in the Bay. Rossport Walk is a 10km long walk. It starts and finishes at the crossroad near Denny's Ferry Bar. The estimated time is 2 hour 20 mins.
---
6. Hear mystical music at Bellacorrick Musical Bridge
Video © Kenneth Sloan
The legendary Corick Bridge, also known as 'The Musical Bridge', has become an object of curiosity in Co. Mayo. Music is produced from the bridge in two different ways. Firstly by rolling a stone along the parapet as you run along on either side. As the stone drops along, musical notes are produced in rapid succession.
Secondly by holding the stone in your hand and to strike it on the slabs, which form the coping of the parapet hitting each slab as you go along drawing back the hand immediately after striking. Each slab gives forth its own peculiar note and a wonderful musical scale is produced.
The bridge, was started in 1920, but it took decades to near completion, and during the famine, many are said to have died as it was being built.
Part of the bridge remains unfinished (one slab). Local legends say the bridge will collapse, or the person planting the last stone will perish if the bridge is completed …
Bellacorick Musical Bridge has four elliptical arches, each thirty feet apart, with battlements nearly 400 ft long.
---
7. Dine and Stay at Teach Greannaí, Cornboy
Set in a coastal area of exceptional natural beauty, and in the heart of the Gaeltacht (Irish-speaking area) the Teach Greannaí Community Centre offers a unique accommodation option in the form of an accommodation pod, a restaurant/café.
The restaurant opens from 9am to 4pm (Monday to Sunday), and serves All day Irish breakfasts, freshly cooked lunches, snacks and sandwiches. On weekend evenings, the diner offers a fast food take away/eat-in service. It also provides catering for functions and parties, and packed lunches for tours and trips.
Teach Greannaí offers an exciting accommodation option in the form of an accommodation pod which sleeps four people. This structure, constructed in large part from natural materials, offers a pleasant and comfortable environment for a night's rest and refuge, while being close to nature and the elements.
Teach Greannaí also offers guided walks of the nearby coastline and wider Kilcommon area during the summer months, and it even offers a laundry service from Monday to Friday.
It's important also to note that Teach Greannaí is a social enterprise, so by staying here, you're benefiting the local community and supporting jobs!
To book:
Visit www.booking.com/teachgreannaipod or visit their Facebook page. | Google Maps link
---
8. Go island-hopping off North Mayo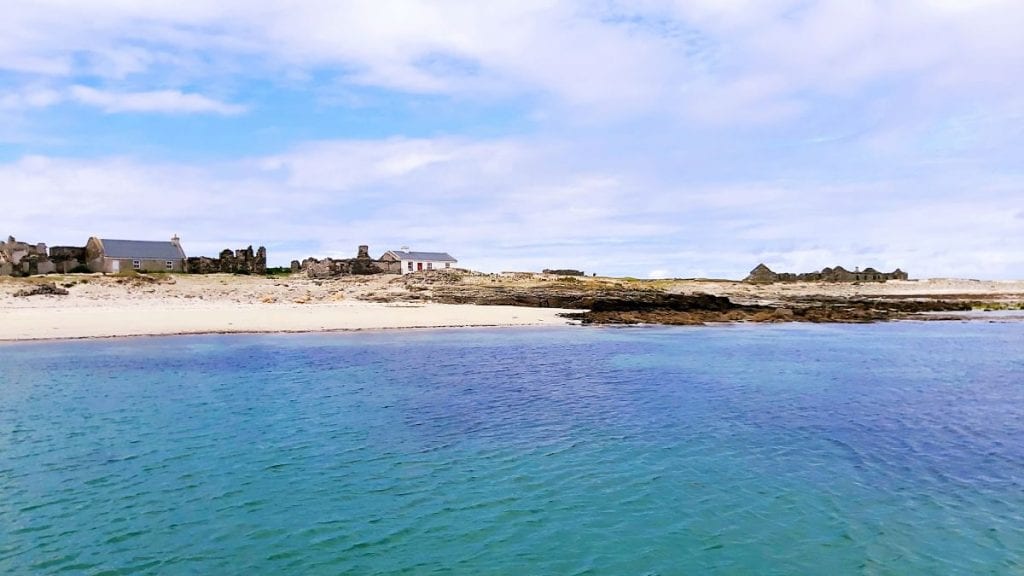 Visit the idyllic islands of Iniskea North and South and Inis Gluaire off the Erris Peninsula.
Inishkea South Island
Located approximately 4km west of the peninsula, this island is the most visited of the three. Although there is evidence of habitation on the island dating back 5,000 years, it has been abandoned since the 1930s, and its pristine white sandy beaches are now home to seabirds including barnacles, Atlantic grey seals, ruined houses, a variety of wildflowers and the remains of a once thriving whaling station on Rusheen Island, just off the coast of Iniskea South.
Inishkea North Island
On the North Island, which is less frequently visited, you'll find the ancient remains of the ruins of St. Colmcille's Church, the Bailey Mór, Bailey Beag and Bailey Dóite, small circular areas which in the past contained beehive huts, used by monks in the Early Christian period. Remains on the island suggest Inishkea must have been an important centre in the Early Christian period.
Inis Gluaire
This tiny island has been uninhabited since the early 20th century. Also known as Inishglora, it is apparently the holiest among Mayo's islands, where nearby sailors and fishermen used to lower their sails as a mark of respect for St. Brendan the Navigator, who is reputed to have spent time on the island. Inis Gluarie is also where Irish myth The Children of Lir is said to be based.
Getting to the Islands – Charter Services
Geraghty Charters :
Mobile: +353 (0)86 2695851 | Email: josgeraghty@gmail.com | Website: www.geraghtycharters.com
Blacksod Sea Safari
Mobile: +353 (0)83 0263100 | Email: blacksodseasafari@gmail.com or info@blacksodseasafari.ie | Website: www.blacksodseasafari.ie
---
9. Take a dip in Belmullet Tidal Pool
Outdoor pools are rare in Ireland – and tidal pools are rarer still. Belmullet Tidal Pool, built in the 1980s is located on Shore Road, in the waters of Blacksod Bay, a short walk from the town centre.
The pool is about 20 metres long with shallow and deep ends. Access is by ladders at either end. It has a toddler's section and a deeper section for experienced swimmers.
In the months of July and August, there is a lifeguard patrol here. During this time, there are swimming and safety lessons for children.
---
10. Enjoy the Arts at Áras Inis Gluaire
Áras Inis Gluaire, Ireland's only bilingual arts centre, situated in the beautiful environs of Belmullet town. Áras Inis Gluaire is a purpose built, state-of-the-art arts space that is part of Belmullet Civic Centre.
Facilities at Áras Inis Gluaire include a 170 seat auditorium (theater and cinema), an exhibition / gallery space, a recording studio, including a local radio facility – Erris FM, dressing rooms, meeting rooms, administration space, and a reception and café area.
Áras Inis Gluaire Programme of Events
Visit: www.arasinisgluarie.ie.
---
11. Take to the water with Wavesweeper Sea Adventures
Why not take to the water in Belmullet, Co.Mayo with the family-run soft adventure company – Wavesweeper Sea Adventures. With a host of activities to choose from, including kayaking, surfing, stand-up paddling, David and his team ensure that there is something for everyone to enjoy.
Wavesweeper Sea Adventures caters to families, groups, tour operators and schools. Their Little Dippers surf programme is a big hit for children aged 7-10, as is their Seals Surf programme for older children over 10. Grown-ups can also learn to surf with a two-hour surf lesson, and kayaking lessons (with optional snorkelling) take place in stunning Scotchport, just outside Belmullet. Try your hand (or feet!) also at stand-up paddling.
Exhilarating outdoor activities on the water in a stunning part of the world – what's not to love?
Contact Wavesweeper Sea Adventures
Call: +353 (0)97 81096 | Email: wavesweeper@thewesternstrands.com | Website: www.thewesternstrands.com/wavesweepers-adventures
12. Embark on a Scenic Drive to the Lighthouses of Erris
There are four lighthouses in the Erris region:
Blacksod Lighthouse
Eagle Island Lighthouse
Blackrock Lighthouse
Ballyglass Lighthouse (also known as Broadhaven Lighthouse)
Blacksod and Ballyglass Lighthouses are both on the mainland, while Eagle Island and Blackrock are on islands just off the coast of the Mullet Peninsula. A scenic drive to view each of these lighthouses brings you from the north of the peninsula to the south. On a clear evening, you can see the lights from all four lighthouses from the hill at Alt, Bunnahowen (Glencastle Village) – a fact that is symbolised by a sculpture in the centre of Belmullet town.
Blacksod Lighthouse is the only one of the four lighthouses open the public. Step inside Blacksod Lighthouse and allow yourself to be transported back in time with one of their guided tours. Expert guides will bring alive lighthouse life as it was for the keepers and their families and guide you through the rich history of Ireland's great lighthouses and aids to navigation. This wonderful experience also offers one of the rare opportunities to visit a working lighthouse overlooking a working pier!
Daily guided tours and speciality tours of Blacksod Lighthouse are available from 11am – 4:30pm.
Admission price: Adult €7, Child €4, Family €20.
Book now on: VisitBlacksodLighthouse.ie | Phone (097) 85727.
We hope you've enjoyed your whistle-stop tour of Erris. But there's lots more to see and do here!