---
Happy International Women's Day. Here are some incredible women from North Mayo who have blazed trails, and continue to do so, the world over.
---
Fliodhais
Fliodhais or Flidais is a powerful figure from Irish mythology thought to have been a Goddess of cattle and fertility. Fliodhais is a key figure in The Táin Bó Mhaigh Eo / 'Cattle Raid of Mayo' saga. According to folklore Fliodhais possessed a prize cow called Maol Fliodhais which was said to supply enough milk daily for three hundred men, their wives and children. Queen Medhbh (Maeve) became aware of Maol Fliodhais and sent her army to Erris to capture the famous cow – and what followed was a saga of epic proportions. Read more here.
---
Mary Robinson
Born in Ballina in 1944, Mary Robinson (née Bourke) was elected the seventh president of Ireland in 1990 – the first woman elected to the highest public office in the land. She would later go on to become UN High Commissioner for Human Rights, UN special envoy on Climate Change and at present is the current Chair of The Elders.
The Mary Robinson Centre, Ireland's first Presidential Library will include a museum, archive, research and educational facility and events venue, and will be housed in Mary Robinson's childhood home on the banks of the River Moy in Ballina, Co. Mayo.
---
Dr. Kathleen Lynn (1874 – 1955)
Dr. Kathleen Lynn was born in Mullafarry near Killala. As a child growing up in the aftermath of the Great Famine Kathleen had a great desire to become a doctor. Her family were against her decision to become a doctor. Dr. Lynn graduated in 1899 and worked in various Dublin hospitals. Dr. Lynn was a suffragist acting as an executive member of the Irish Women's Suffrage and Local Government Association. Dr. Lynn joined the Irish Citizen Army and was CMO during the Easter Rising in 1916.
In 1919 Dr. Lynn founded St. Ultan's Children's Hospital, and the call for the new National Children's Hospital to be named in her honour is growing louder.
---
Rose Conway-Walsh TD
Rose Conway-Walsh TD is originally from Ballycroy but now lives in Belmullet. She was elected to Mayo County Council in 2009, where she served until 2016 when she was elected to Seanad Éireann. She was Sinn Féin's Seanad Leader during her time in the Upper House. In 2020 Rose Conway-Walsh was elected TD for Mayo becoming the first Sinn Féin TD in Mayo in almost a century, with the last being Dr. John Madden (Mayo North) in 1927. Deputy Conway-Walsh is at present here party's spokesperson on Higher Education, Innovation, and Science.
---
Sister Mary Joseph Arsenius (Mother Agnes Morrogh Bernard) (1842 – 1932)
Sister Mary Joseph Arsenius or Mother Agnes Morrogh Bernard was born in Cheltenham in England. Although not a native of North Mayo, we have to include her in our list due to her significant impact on the town of Foxford. Upon her arrival in Foxford in 1891 Sister Mary Joseph Arsenius founded a convent and took over the running of the local national school. In 1892, in response to the extreme poverty in the area and to provide meaningful employment to the people of the region, the nun founded the Providence/Foxford Woollen Mills which is operational to this day and is now an internationally recognised brand.
---
Sinéad Diver
Sinéad Diver is an Irish-Australian long-distance runner, originally from Belmullet. Sinéad took up running in 2010, and two years later won the Australian Half Marathon Championship. In 2019 she was the seventh woman to cross the finish line in the London Marathon and fifth in the New York City marathon. Diver represented Australia at the Tokyo Olympics.
---
Lady Sarah Fleming (1881 – 1949)
Lady Sarah Fleming (née McElroy) was born in the parish of Kilfian. After leaving school Sarah and her twin sister Elizabeth travelled to Australia where they trained as nurses. Sarah returned to Dublin working in a nursing home before moving onto London where she established her own nursing home. It was in London that Sarah met Scottish doctor, Alexander Fleming who famously discovered penicillin.
Sarah sold her London nursing home in order to provide finance to enable Sir Alexander Fleming undergo his research into the antibiotic. The couple are interred in St. Paul's Cathedral in London.
---
Dr. Norah Patten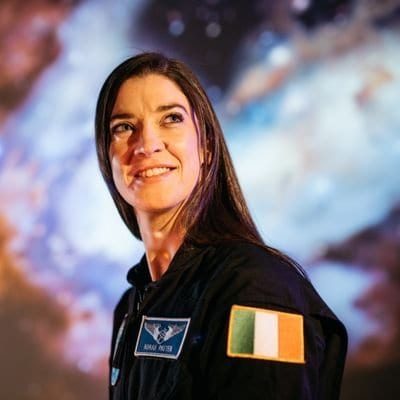 Dr. Norah Patten is a native of Ballina. As a young child Dr. Patten was fascinated by space after visiting NASA. Dr. Patten studied Aeronautical Engineering at the University of Limerick and completed work placement with Boeing. In 2010 Dr. Patten graduated from the International Space University Space Studies Programme. Dr. Norah Patten is a strong advocate for STEM and a inspiration to many young children and grown adults alike!
---
These are just some of our inspirational women from North Mayo, but there are many more women quietly doing incredible things as part of their day-to-day lives. Today is a day to acknowledge and celebrate all women, of all backgrounds, and their social, economic, cultural, and political achievements.