Your complete guide to Fishing and Angling in North Mayo/West Sligo
Here's an overview of angling and fishing in Mayo, including Ballina and Foxford.
The River Moy is obviously our greatest asset here in the region, and with Ballina known as the Salmon Capital of Ireland, there are lots of opportunities to enjoy the river. However there is also a wealth of lake fishing available throughout the region.
You'll find a fantastic fishing community in Foxford, the Capital of the Moy, and East Mayo anglers also have lots of great information and resources for visiting fishers.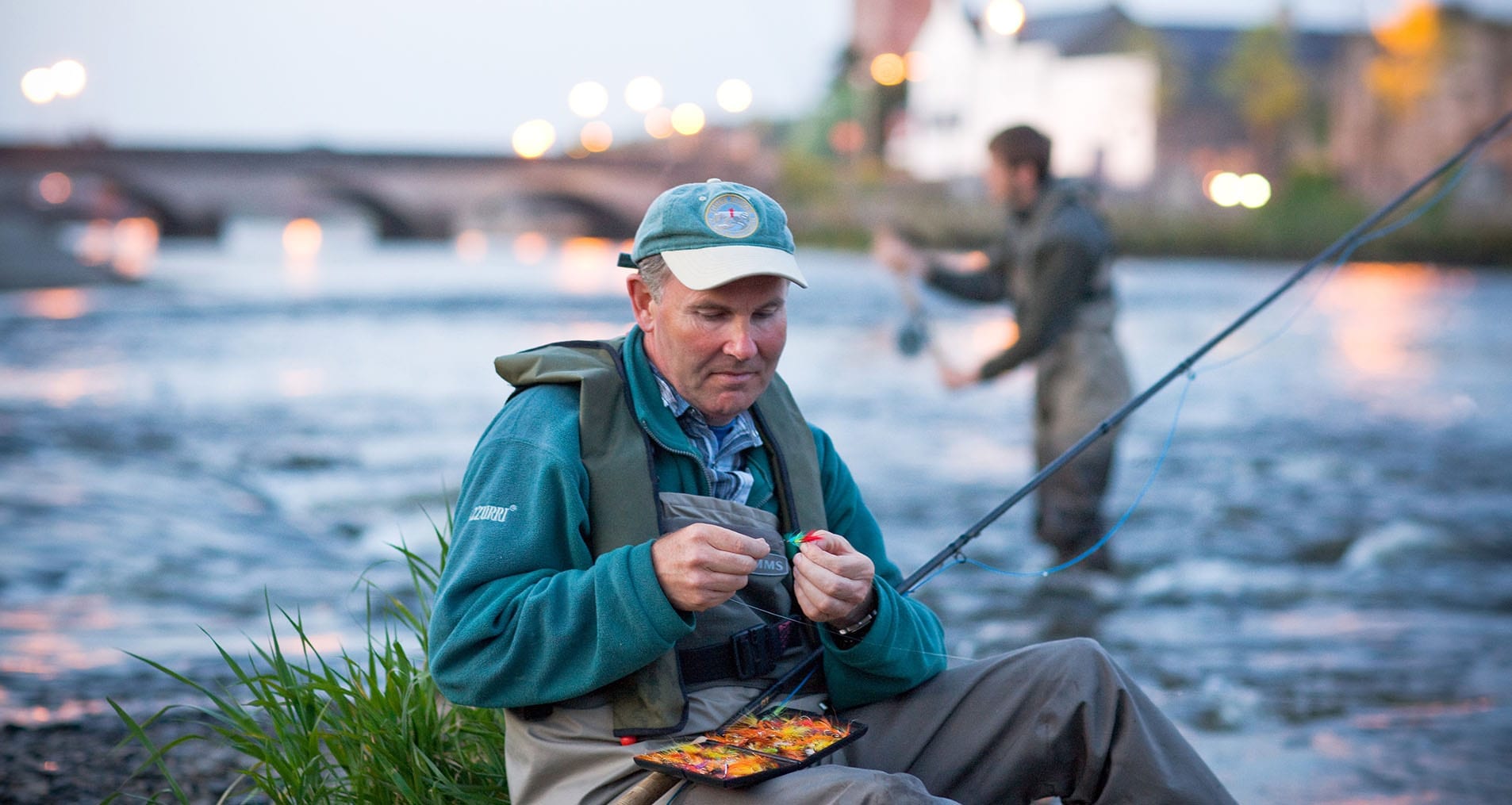 Angling and Fishing in Ballina and North Mayo
North Mayo is a haven for both the domestic and visiting angler. It offers excellent choice and wide variation. The River Moy, Lough Conn and Lough Cullen are world-renowned and internationally acknowledged as some of the best places for fishing and angling in Ireland.
For many years, North Mayo has been regarded a key destination for angling enthusiasts around the world who are attracted to the region's phenomenal offering to those that wield the rod for sport. The region's principal town of Ballina, the Salmon Capital of Ireland (an official designation reflecting the quality of angling and fly-fishing available on its River Moy) is world-renowned for its famous angling, particularly on the Ridge Pool.
A fishing holiday in Ireland brings with it the best of experiences – as well as a top-quality fishing product, you'll also enjoy a great social experience in the evenings in the pubs and restaurants of places like Ballina, Crossmolina, Foxford, Swinford and Enniscrone where the locals will welcome you like one of their own.
READ: Fishing and angling on the River Moy in Ballina
Salmon Fishing in Mayo
The River Moy is known for its exceptional salmon fishery, so much so, Ballina is also referred to as "The Salmon capital of Ireland". In fact, the River Moy is Ireland's most productive salmon river, and fishing for salmon on the River Moy is on many a bucket list, particularly at the Ridge Pool and Cathedral Beat. The River Deel also offers salmon fishing, as does Carrowmore Lake in Erris.
Indeed much of North Mayo and West Sligo is drained by the River Moy  and its tributaries which comprise Ireland's most prolific salmon waters. The area also boasts many bountiful lakes with great brown trout stocks.
The Mayo North area also caters for the sea angler with top-class boat and shore fishing available and up to 34 species waiting to be hooked in its coastal waters.
Brown trout fishing in Mayo
Lough Conn and Lough Cullin have a strong association with Brown trout Fishing with a catch in excess of 4,000 annually. It's also a self-sustaining system which means its fish stock is reproduced naturally and a restock is never needed.
Download the Lough Cunn & Lough Cullin Game Angling Guide
Carrowmore Lake also offers outstanding brown trout fishing.
Sea Trout fishing in Mayo
The Moy Estuary is one of Ireland's prime sea trout fisheries. Sea Fishing, Shore and boat angling is also extremely popular, especially in areas such as Killala and Ballycastle.
Irish Fishing Regulations
On the spot fines
An on the spot fine of €150 can be issued for a range of fisheries offences eg fishing in a closed season, taking fish smaller than allowed for in a bye-law, taking more fish than a bag limit allows etc.
S.I. No. 363 of 2014  Inland Fisheries (Fixed Charge Notice) Regulations 2014 
Do I need a licence to fish in Ireland?
While no licence is needed for trout, pike and coarse fishing in the Republic of Ireland, a rod licence is required in  Northern Ireland. In both Northern Ireland and the Republic of Ireland, licences are required for salmon and sea trout fishing.
Sea fishing for marine sport fish does not require a licence in either country.
In the Republic of Ireland State Salmon and Sea Trout Licences are available as a National licence or a District Licence. A National Licence covers all Fishery Board Districts while a District Licence covers only the Fishery District in which the licence is purchased. Here is a list of fishing tackle shops  in Ireland where licences may be bought.  Alternatively you can buy a licence online. It should be noted that a licence does not confer the right to fish for salmon or sea trout and that permission or permits are required to fish most waters
For more information on fishing in Ballina, Foxford, Swinford and the surrounding areas, visit Angling Ireland or Inland Fisheries Ireland.
Download Local Guides from Inland Fisheries Ireland
Fishing Guides in North Mayo and West Sligo
Name
Address
Telephone
Email
Website
Cloonamoyne Fishery
Trout, sea trout and salmon ghillie
Enniscoe House, Ballina, Co. Mayo.
+353 (0) 96 31928
+353 (0) 87 7697193

ian@cloonamoynefishery.com
www.cloonamoynefishery.com
Harry Feeney
The Foxford Lodge
The Foxford Lodge, Pontoon Road, Foxford, Co. Mayo
+353 (0) 94 9257777
+353 (0) 87 2501858
sales@thefoxfordlodge.ie
www.thefoxfordlodge.ie/activities/fishing
Judd Ruane
'The Sea Trout Specalist'
Creggs Road, The Quay. Ballina, Co. Mayo
+353 (0) 87 6736969
judd@juddruane.com
www.fishingireland.ie
Donal Kennedy
Angling Charter
Killala, Co. Mayo & Enniscrone, Co. Sligo
+353 (0) 86 8174509
dak@eircom.net
www.dkennedyangling.net
Paddy McDonnell
AGPAI-IRELAND
Barnacouge, Swinford , Co Mayo.
+353 (0) 94 9251033
+353 (0) 87 4123235
paddy@paddymcdonnell.ie
www.paddymcdonnell.ie
Gary Binley
Fly-tyer/guide, River Moy
+353 (0) 87 6298747
garybinley@gmail.com
David Slack
Guide/Instructor for salmon and trout fishing CERT
Woodbine House, Church Road, Ballina, Co. Mayo
+353 (0) 96 71178
woodbinehouse@yahoo.com
Adventure Fishing Mayo
Local fishing group; pick-ups and tours, Nephin Begs
+353 (0) 87 9120959
adventurefishingmayo@hotmail.com
Robert Gillespie
Fly-Casting Instructor, Ghillie, Guide,
Salmon Fly Tyer
Leckee, Castlebar Road, Foxford, Co. Mayo.
+353 (0) 94 9256874
+353 (0) 86 0536833
robert@robertgillespie.net
www.robertgillespie.net
Malcolm McPherson
Sea trout angling guide on the Moy Estuary.
Ballysokeery, Ballina, Co Mayo.

+353 (0) 96 32667
+353 (0) 87 931 5712
malmcpherson67@gmail.com
www.killalaseatroutangling.com
Michael Tiernan
Guide and Instructor for trout and salmon fishing CERT

Tiernan Brothers Angling Centre, Main Street, Foxford, Co. Mayo
+353 (0) 94 9256731
tiernanbros@eircom.net
www.themoy.com
Kenny Sloan
Pike and Salmon fishing Guide.
7 Riverside, Foxford, Co. Mayo.
+353 (0) 87 9670310
+353 (0) 94 9256501
ksloan@eircom.net
Fishing Tackle Shops in North Mayo/West Sligo
| Name | Address | Telephone | Email | Website |
| --- | --- | --- | --- | --- |
| Ballina Angling Centre | Unit 55, Ridge Pool Road, Ballina, Co. Mayo. | +353 (0) 96 21850 | info@ballinaanglingcentre.net | www.ballinaanglingcentre.net |
| Ridgepool Tackle Shop | Cathedral Road, Ballina, Co. Mayo. | +353 (0) 96 72656 | garypiggott12@hotmail.com | www.facebook.com/Ridgepool-Tackle-Shop |
| Tiernan Brothers | Main St, Foxford, Co. Mayo | +353 (0)94 9256731 | tiernanbros@eircom.net | www.themoy.com |
| Seamus Boland | Bridge Street, Swinford, Co. Mayo | +353 (0) 94 9251149 | julieboland4553@hotmail.com | |
| Gannon's Tackle Shop | Providence Road, Foxford, Co. Mayo | +353 (0) 86 2659066 | patmgannon2003@hotmail.com | |
List of local fishing clubs
Attymass Angling Association – River Moy
c/o Padraic Garret
Attymass, Ballina, Co. Mayo
Tel: +353 (0)94 58151
The club waters are situated 2.5 miles from Ballina on the east bank of the River Moy. The fishery consists of approximately 2.5 miles of single bank fishing and is divided up into three distinct sections including three famous Moy pools: Padden's Pool, the Wood Pool and Cunningham's Pool.
East Mayo Anglers – River Moy
Ms. Linda Philips
The East Mayo Anglers Association Offices, Market Street, Swinford
Email: eastmayoanglers@eircom.net
Tel: +353 (0)94 925 3955
Web: East Mayo Anglers
The club leases approximately 8 miles of double bank fishing, which extends from approximately one mile upstream of the confluence with the Cross river to the confluence with the Killeen river on the left bank and from a point approximately a mile and a half downstream of Ballylahan bridge to on the right bank.
Foxford Salmon Anglers – River Moy
Michael Tiernan
Riverside
Foxford
Tel: +353 (0)94 56731
The club waters consists of double bank fishing from Foxford bridge upstream for about 1 mile and adjoining the Cloongee fishery ½ a mile north of the confluence with the Cross river.
Knockmore Angling Club – River Moy
Mr. Martin Kelly
Tel: +353 (0)94 58287
Knockmore Club operates two separate stretches on the west bank of the River, three miles north of Foxford just off the N26. Both beats are little more than one mile apart and are adjoined by private fisheries on either ends.
River Easkey Angling Association – River Easkey
The River Easkey Angling Association is a growing angling club, taking care of much of The River Easkey, protecting the fish and improving access for locals and visitors alike.
More information can be found on their Facebook page – River Easkey Angling Association
For permits/membership/information, please call the REAA: +353 (0)87-698-3970; +353 (0)89-419-2629 or +353 (0)89-963-1237.
Lough Conn & Cullin Anglers Association
Ballina and Cloghans Angling Club
Related fishing and angling information