---
North Mayo's capital town Ballina has plenty to offer for both the local and visitor alike.
Whether it is outdoor activity followed by a lovely meal, or perhaps discovering our local history, Ballina and its surroundings will definitely leave an exciting and lasting impression. Check out our list of things to do in Ballina below.
1. Explore our local and National history with the Jackie Clarke Collection
The Jackie Clarke Collection is the single most important private collection of Irish history material in public hands, comprising over 100,000 items spanning 400 years. It includes artefacts associated with Theobald Wolfe Tone; letters from Michael Collins, Douglas Hyde, Michael Davitt and O'Donovan Rossa. It also contains rare books, proclamations, posters, political cartoons, pamphlets, handbills, works by Sir John Lavery, maps, hunger strike material and personal items from Leaders of the 1916 Rising.
The main exhibit space showcases the treasures with an interactive touch screen illustrating and detailing hundreds more items. Adjacent is an original 1916 Proclamation – Jackie's "Holy Grail".
This exhibition displays some key items that illustrate Jackie's genius for finding rare and unique material, and presents a short and gripping film on how he put his collection together.
Opening Times: Tuesday to Saturday, 12pm to 5pm
For Bookings: +353 (0)96 73508 | Visit: www.clarkecollection.ie | Email: [email protected]
---
2. The Ancient tradition of Falconry comes alive in Mount Falcon
Falconry at Mount Falcon is truly a unique experience, where you can avail of Mount Falcon's resident falconers who will personally introduce you to their various birds of prey.
Take part in a Hawk Walk where you share in the secrets of the birds, their hunting habits and place in the ecosystem. The lesson in this ancient husbandry is completed by taking a Harris Hawk on a glove through the magical Mount Falcon Woodlands Estate.
For Bookings: +353 96 74472 | Visit: www.mountfalcon.com | Email: [email protected]
---
The town of Ballina has a strong traditional heritage encompassing music, theatre and dance. The Ballina Arts Centre hosts a busy programme of music, theatre and more which is worth checking out, and also offers support to visual artists by providing visual arts space, and implementing a growing programme of artists' workshop and masterclasses.
Call: +353 (0)96 73593 | Visit: www.ballinaartscentre.com | Email: [email protected]
---
4. Feel enchanted at beautiful Belleek Castle
Belleek Castle has a colourful history with a myriad of fascinating stories, and now you can get a taste of these with a tour of the building and its mesmerising Belleek Castle Museum.
The Marshall Doran Collection forms the highlight of the tour the Belleek Castle Tour, including an explanation of the origins of the Castle from the time of its building in the early 1800's, and the history of its former owners, the Knox-Gore family, the Earls of Arran.
You will also learn about its last owner, Marshall Doran, a merchant navy officer and an avid collector of fossils and medieval armour, who acquired the property in 1961, restored it and opened it as a hotel in 1970. Marshall, a colourful character as befits the story of the house, was among many other things a master craftsman, and did a lot of the work himself.
For Bookings: +353 (0)96 22400 | Visit:  www.belleekcastle.com | Email: [email protected]
---
5. Cast a line on the world-renowned River Moy
North Mayo is a haven for both the domestic and visiting angler, and is one of the most famous things to do in Ballina. It offers excellent choice and wide variation in terms of locations, and available methods.
The River Moy is known for its exceptional salmon fishery; so much so, Ballina is also referred to as "The Salmon capital of Ireland" and the famous Ridge Pool draws anglers from around the world.
For more details and license contact: North West Fishery, Abbey St, Ballina on +353 (0)96 227886 | Email: [email protected]
---
The Connacht Distillery visitor experience will bring you on an intimate tour, discovering from grain to glass how their triple distilled craft pot still whiskey is so smooth and golden in colour.
You will explore the rest of the family, including their gin, poitin and vodka, each with its own unique story. You can quench your thirst and explore the full portfolio as you are guided through a personalised tasting session.
When you're done, discover the distillery shop where you can purchase both Connacht Distillery and local souvenirs.
Opening hours: Thursdays + Fridays 15.30 Saturday + Sunday 12.30 +15.30. On request, the Distillery can also cater for groups at alternative times.
For Bookings: +353 (0)96 74902| Visit: www.connachtwhiskey.com | Email: [email protected]
---
7. Marvel at the beautiful Belleek Woods, cycle the Monasteries of the Moy cycleway
Situated along the banks of the river Moy just 1.5km from Ballina town centre, lies Belleek Woods, a magnificent thousand-acre woodland. The wood is one of the largest urban forests in Europe and is a fantastic amenity for locals and visitors alike.
After driving through or past the gate lodge, park up and enjoy the myriad of flora and fauna in this oasis of peace. Belleek woods is an area of great tranquility, and beauty where you can enjoy the natural forest pathways running both through the forestry and along the River Moy. Keep an eye out for the squirrels!
Check out the old SS Crete Boom, Ballina's mysterious concrete ship, or explore the many trails through the forest, which will throw up a few big surprises, not least the majestic Belleek Castle itself. Numerous routes for all walkers, runners and cyclists meander throughout the woods.
The Ballina to Killala Greenway, the Monasteries of the Moy also starts from outside the Connacht Whiskey Distillery.
---
Ballina Golf Club offers one of the most scenic parkland courses in the West of Ireland. Situated in the heart of the un-spoilt Moy Valley region and very close to Ballina town centre, it is set against the backdrop of the majestic Ox Mountains.
This challenging 18 -hole Course offers lush fairways, carefully manicured greens and strategically placed water hazards. It offers the golfer variety, a fair test of golf and most important of all, good value for money.
For bookings: +353 (0)96 21050 | Visit: www.ballinagolf.com | Email: [email protected].
9. Tantalise your taste buds in Ballina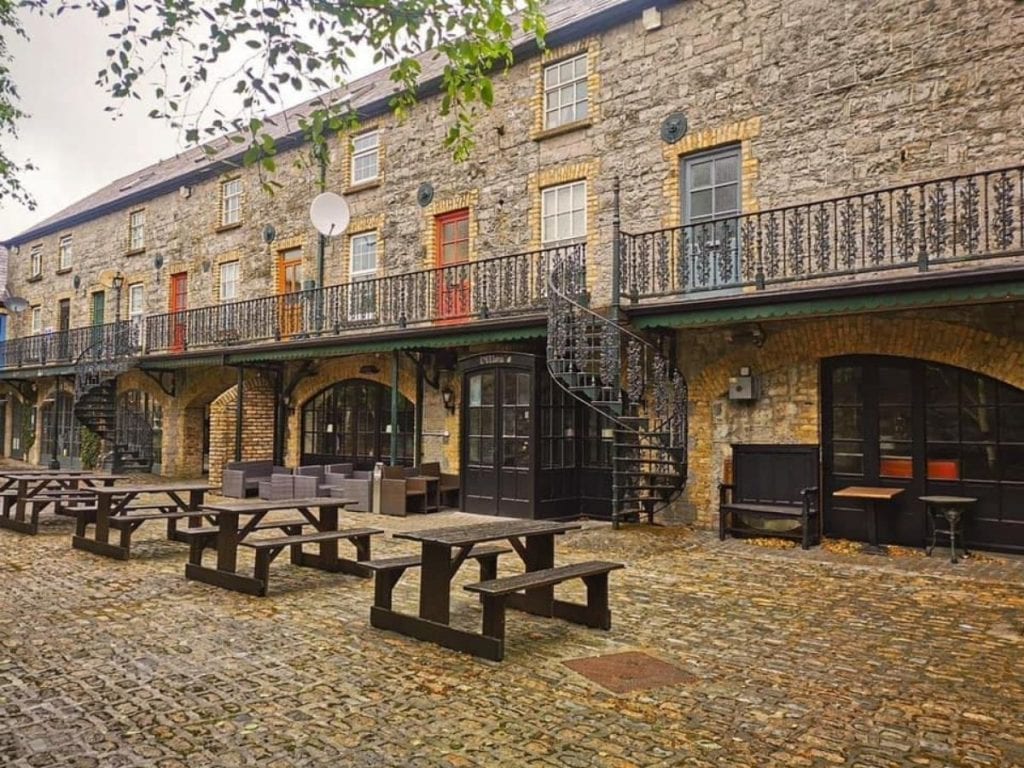 From traditional cuisine to ethnic restaurants, and busy bistros to cosy cafés, the North Mayo capital has it all. Many of the local eateries take great care to source their ingredients locally, ensuring you get a true sense of place on a plate in Ballina.
Visit www.mayonorth.ie/eat/for some ideas!
10. Things to do in Ballina – The Great Outdoors
A wide variety of outdoor activities can be undertaken in Ballina from archery to stand-up paddleboarding (SUP) and kayaking along the River Moy to cycling the many trails throughout the town and its surroundings. Join the Saturday morning parkrun (a free, timed event that takes place in communities all over the world) or go horse-riding on the outskirts of town.
For some ideas and a list of providers, visit northmayo.ie/things-to-do.