Situated just 15 minutes drive away from Knock airport by car, this small town in East Mayo has activities to suit all tastes and needs.  Whether it is checking out some of the world class fishing along the famous River Moy or learning about the local history and culture in Hennigan's heritage Centre, there are some excellent things to do in Swinford and its surrounding area.
1. Fishing in Swinford
Sitting on the River Moy, Swinford earns international recognition from anglers throughout the world.  Swinford boasts some of the best salmon and trout angling in Europe and has developed easy access to all parts of the river to enable the angler to fish in comfort.  The bridges at Cloonacannana, Cloongullane, and Ballylahan provide excellent vantage points on the river.
Also, both lakes at Callow (see below) hold good stocks of wild brown trout. The lakes get good hatches of duckfly, mayfly and sedges.
Tel: 00 353 (0) 94 92 53955 | Email: eastmayoanglers@eircom.net | Visit: eastmayoanglers.com
2.  A stroll through Brabazon Woods
Brabazon Woods on the Kilkelly Road are a 2 minute walk from Swinford town centre. A beautiful children's playground is located at the base of this walk which starts with a pathway that leads you on a short uphill stroll through the trees.  A glorious nature walk, you will take in the sights of the beautiful old trees, the flora and fauna. With a gentle stream flowing through, you can also observe the golfers on various holes along the way.
And don't forget the beautiful Fairy Trail, lovingly placed by the local community to entertain the little ones.
Visit: Brabazon Woods Facebook page
3. Explore the past at Hennigan's Heritage Centre
Hennigan's Heritage Centre in Killasser is a mecca of un-spoilt countryside overlooking Creagaballa Lake.  It is located 6.5 kilometres from the famine workhouse in Swinford, where thousands of people from the region died during the 19th century due to starvation. 
Hennigan's Heritage Centre tells the story of the lives of local West of Ireland people over the past 200 years. A guided tour of this small holding is provided by Tom Hennigan who is the sixth-generation of his family to live here. See and hear how this family survived on less than ten acres of poor land for twenty decades. Information displays range from prehistoric to the 19th century land estates and tenants, through Independence and to present times. Working demonstrations of the implements on display plus archaeological tours of the surrounding historic area can also be provided.
This is such an authentic and fascinating experience and we couldn't recommend it enough.
Tel: + 00 353 94 9252505 | Email: tom-hennigan@hotmail.com |Visit: hennigansheritage.com/
4. Master the parkland at Swinford Golf Club
One of best features in Swinford is its golf course. Surrounded by mature woodland, this beautifully maintained course is a challenge to all levels of golfer. It is relatively short in length, but this can be an extremely tricky course with many blind second shots, severely sloping greens and out of bounds in play off the tee on 5 of the 9 holes. While many try to overpower the course with the driver, the course can bite back. Accuracy and course management is the key to scoring well around Swinford.
Tel: +353 94 92 513785 | Visit: Swinford Golf Club
5.  Spirit of Place – Procession of the Souls, Swinford
"The Procession of the Souls" is an award-winning memorial dedicated to the history of the Great Famine in Swinford, Co Mayo.  
The haunting memorial was designed and constructed by Travis Price and his students from the school of Architecture & Planning/Spirit of Place-Spirit of Design in Washington USA. The memorial is being constructed on the site of the Famine & Paupers Graveyard which has been under restoration by Swinford Tidy Towns since 2012.
Visit: Swinford Tidy Towns
6.  Explore the breathtaking Callow Lakes by foot
The Callow lakes are situated just off the N26 Foxford to Swinford Road. The two lakes (Callow North and Callow South) are are joined by a narrow channel, which is navigable throughout the season.
The Callow Loop trail is 6.5km in distance and is suitable for walking and mountain biking. The terrain comprises of both country lanes and bog tracks. From the slipway and pier at Callow Lake follow the blue trail pointer markers leading up the steep hill and cross the bridge. After crossing the bridge which is supported by arches underneath continue upwards and onwards.
You'll get beautiful views of the lakes from a height, surrounded by wildflowers, and away in the distance the Nephin mountain range can be viewed and the fertile valley created between them and the Ox mountains supports vegetation which provides cover, food, and nest sites for a wide variety of birds.
7.  Visit the Indoor Country Market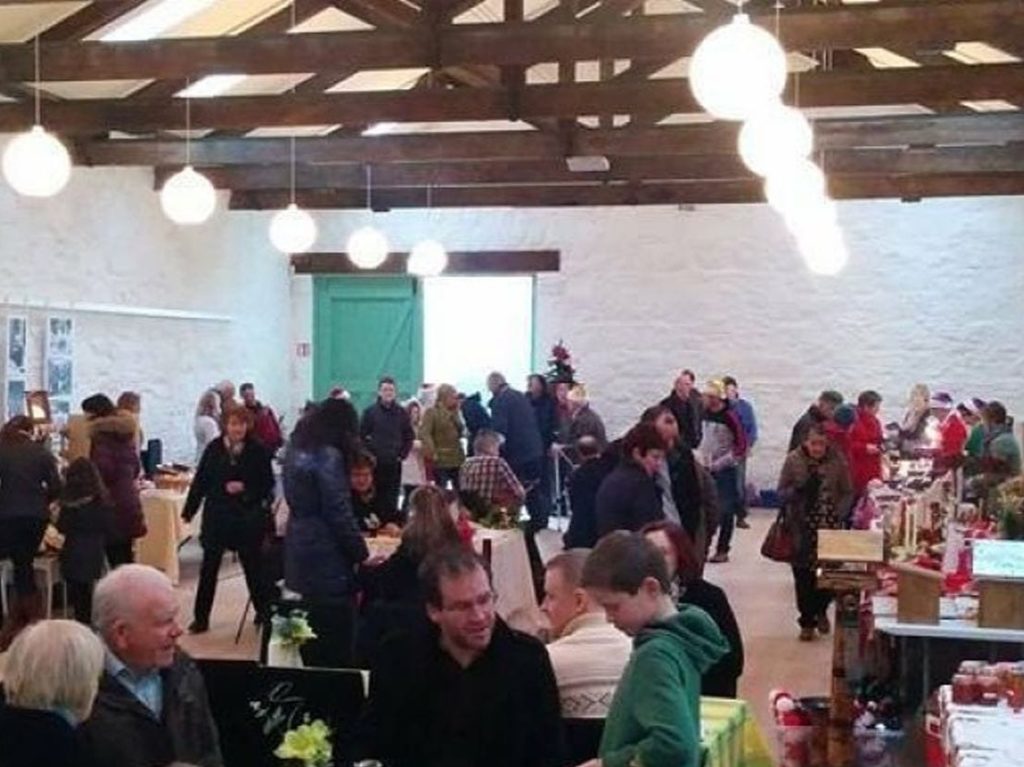 Swinford Indoor Country Market takes place on the first Saturday of every month from 9.30am to 2pm in the beautifully restored Swinford Cultural Centre. Each monthly market offers you a wide variety of produce including home baking, breads, local honey, jams, preserves, chutneys, fresh fruit & veg, fresh flower and silk flower arrangements, crafts, sewing, quilting, crochet, knitting, herbs, plants, flowers, bulbs, exotic & unusual plants, home spun wool, soaps, jewellery of all types, greeting cards cheeses and olives and much, much more.
Live entertainment provided by local musicians serves to further enhance the atmosphere on market day.  The Railway Café serves teas, coffees and a selection of other mouth – watering fayre also.
Tel: 087 440 6828 | Email: swinfordindoorcountrymarket@gmail.com | Visit: Swinford Indoor Country Market Facebook page
8. Quench your thirst in one of Swinford's many cosy bars
Swinford has a fine selection of bars and lounges that will help you quench your thirst, with most hosting live music at the weekends as well as all the major live sporting events.  Lovers of traditional Irish music and dance, should take a visit to the renowned weekly ceili every Monday night in Julian's of Midfield, or visit Horkan's. Campell's, Quinn's, The White House or Mellett's  in the heart of the town.
Throughout the year you'll also find a range of wonderful community events and festivals, such as the famous Siamsa Sráide Street and Arts Festival, Féila na Samhna, and a host of great sporting events too including the Ireland West 3/4 Marathon. Visit www.swinford.ie for more information, and check out the Gateway Hotel for accommodation offers.