---
Family holidays are about making memories that last forever, and here in North Mayo, you'll find ample opportunity to make memories with little ones. We have some great things to do with children in North Mayo!
Here are just eleven (and maybe a few more!) great things to do with children in North Mayo that will stay long in the minds of adults and children long after you've left this beautiful area. There are also some great ideas for locals here too!
1. Explore the trails in Belleek Forest Park and take in some fossils and coats of armour along the way!
Belleek Woods, or Belleek Forest Park is one of the largest urban woodland areas in Europe. It is a children's paradise! With thousands of trees to climb, ducks to feed (but be sure to not feed them bread!), trails to explore and rare red squirrels to spot, Belleek provides the perfect free family day out.
Marvel at the ornate monuments and race up and down the hills, or cycle the track by the river and peek through the trees at the magnificent Belleek Castle – just like Hogwarts!
As you make your way through Belleek Woods see if you can spot the beautiful Belleek Woods Fairy Trail that has been developed. You'll see tiny little fairy houses, high in the trees and hidden in tree roots. Colourful and miniature, each house reflects the character of its tiny resident!
Another great activity for the family whilst you are exploring Belleek is to visit the amazing Belleek Castle and avail of a castle tour. The highlight of the tour is Marshall Doran Collection at Belleek Castle, one of the finest collections of Jurassic fossils, Medieval Weapons, and Medieval armour in Ireland. Imagine standing in awe as you see these rare and precious artefacts up close. You'll also get to see Grace O'Malley "The Pirate Queen's" bed, the last wolf shot in Connaught, and other curiosities. A wonderful experience for all ages!
---
2. Surf the best waves in nearby Enniscrone or in beautiful Erris
Why not take the family and enjoy some amazing surf experiences with either 7th Wave Surf School in Enniscrone or Tonn Nua on Glosh beach in Erris.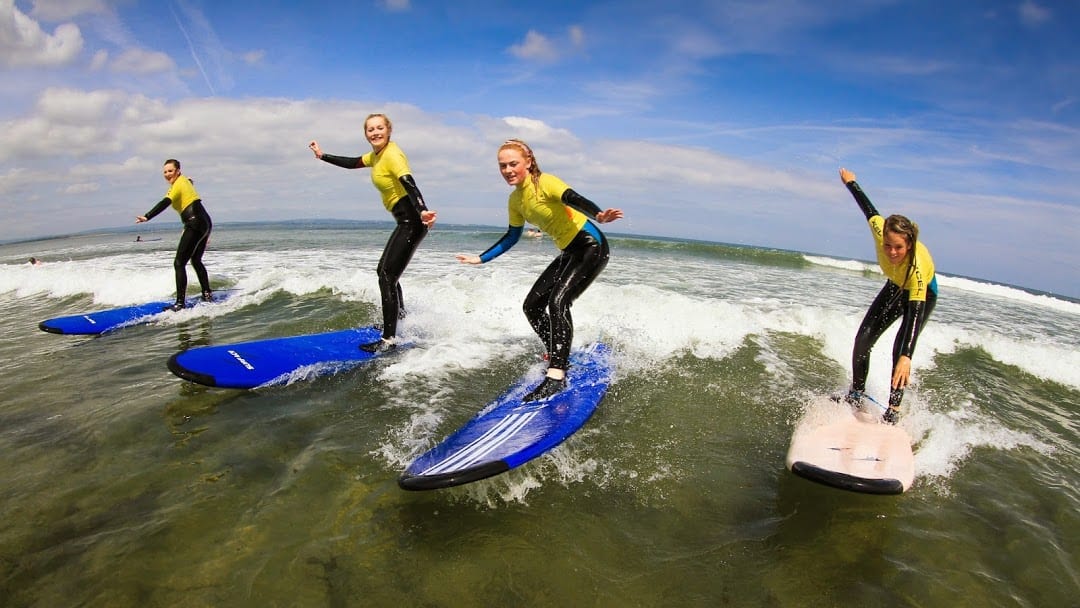 The friendly, family-run 7th Wave Surf School caters for all ages and abilities and lets children and adults alike enjoy a relaxed and fun atmosphere in a great learning location. – In addition, Enniscrone's gentle waves make it perfect for beginners and it's just a short 15 minute drive from Ballina. All instructors are fully ISA qualified, full insurance is provided and all equipment is included. Children can take part in a surf camp, take individual lessons, or the family can just hire gear and give it a go yourselves!
Tonn Nua Surf School, meaning New Wave in Gaelic, is based out of Glosh beach a breathtakingly stunning beach on the Mullet Peninsula, Co. Mayo, Ireland. It is only a 15-minute drive from Belmullet Town. Tonn Nua Surf School is the first and only dedicated Surf School in Erris Co. Mayo and during the months of July and August 5-day summer camps will be available to join. During the week the kids will learn all about surfing and water safety. As well as the Summer Camps, Declan also offers group lessons and rentals.
---
3. Saddle up for a pony trek at Iceford Stables
Make memories on horseback! This beautiful equestrian centre – Iceford Stables, is located between Ballina and Enniscrone. Set in a stunning location, Aiden, Lizzy and their team offer lessons, treks, parties and pony camps for riders of all ages and experience. It is also yet another great experience for locals and visitors alike!
For people with additional needs: Shore Farm Pony Therapy which overlooks Killala Bay, caters specifically for people with additional needs who enjoy horse riding.
---
4. SUP ( Stand Up Paddling) in North Mayo
Mikee and his team at Harbour Sup offer group or individual SUP sessions from Enniscrone Pier and the Quay Ballina, and can cater for groups of up to 24 in a single session. Beginners welcome! In addition to this, all instructors are ASI qualified and hold water rescue, first aid and child protection in sport certification. HSS is a fully insured accredited school.
More To Life Adventures set off from multiple locations in the area and offer you the opportunity to paddleboard on some of North Mayo's best locations including Killala, Ballina and Lough Conn. They and cater for all ages and abilities.
Simply Sup based on the stunning locations of Lough Conn and the river Moy in Ballina, provide you with a unique and personalised SUP experience. They also offer private beginner lessons, improver sessions and SUP tours.
Wavesweeper Sea Adventures is a family run soft adventure company based in Belmullet, Co. Mayo. They also offer activities including: Surfing, Kayaking, Stand-up Paddle Boarding and many more on and off the water activities. They cater to families, groups, tour operators and schools.
---
5. Falconry at Mount Falcon Estate
Children will also love getting up close and personal with these magnificent birds of prey – barn owls, snowy owls, Harris hawks, peregrine falcons – at Mount Falcon Estate, with the help of the resident Falconers. The experienced falconers, include some of Irelands youngest female falconers in Ireland.
Families can also take a Hawk Walk through the magical woodlands Estate and see a Harris hawk in its natural environment.
---
6. Hire a bike and explore!
Mayo North is blessed with beautiful coastline and quiet roads which are perfect for taking an adventure on two-wheels. Why not take in one of our cycling trails with the family?
In addition to this, why not cycle the scenic, off-road Monasteries of the Moy Greenway from Ballina to Killala. Guides available. Grown-ups can even hire an electric bike from Ballina Bike Hire, which will enable you to cover much more ground with great comfort!
---
7. Take a swing for par at Enniscrone Pitch & Putt (down the road in Sligo)
Set in the natural valley of the Bellawaddy River, overlooking stunning Enniscrone Beach, the Enniscrone Pitch & Putt course has gained the reputation of being one of the very best in Ireland. Located only a ten minute drive from Ballina, this is a great experience for all of the family to enjoy.
All ages are welcome, no booking necessary and everything is provided. Special group rates are also available.
---
8. Hit the swings and roundabouts at one of our fabulous playgrounds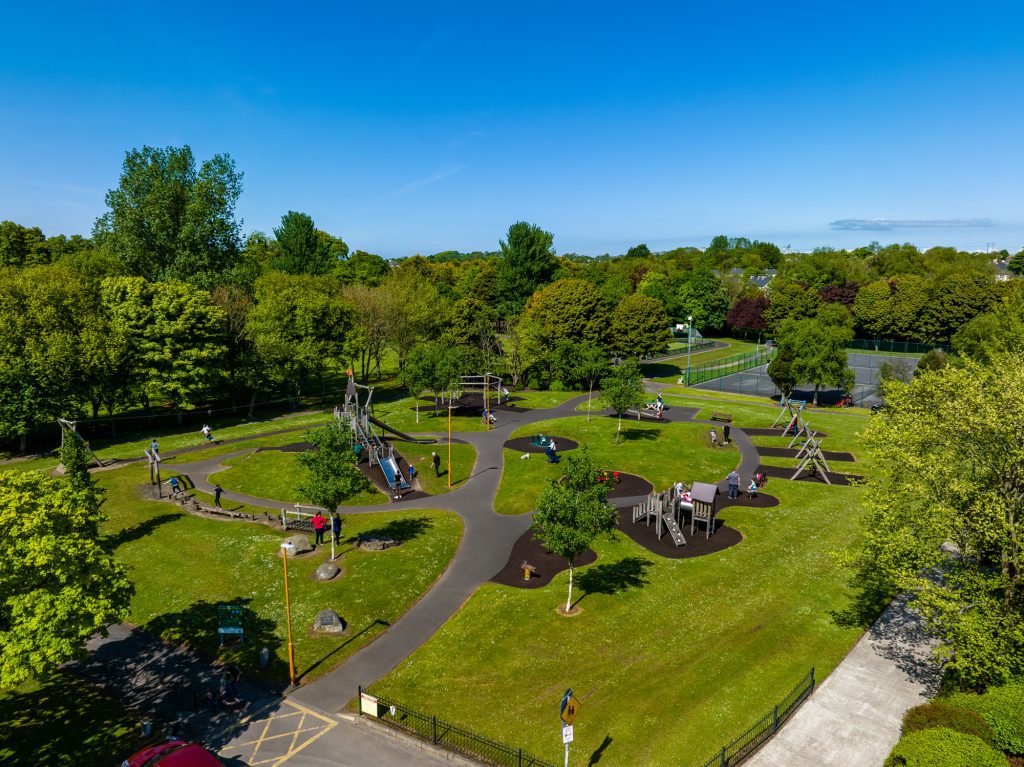 Recently included as one of the best playgrounds in Ireland by the Irish Times. the playground at lovely Tom Ruane Park, Ballina is fully accessible and has some great equipment to test their physical limits. There are tennis and basketball courts alongside, and plenty of of parking. The park is located on the Sligo Road, close to St. Muredach's College, and also the best part is admission is free.
Enniscrone Playground and Crazy Golf, newly upgraded, offers secure fun for children of all ages. The playground has various equipment for kids including slides, swings along with go-carting on-site. There is a small admission fee. It also offers Crazy Golf at a fee of €3.
There are many more playgrounds in Mayo so be sure to check them out here.
---
9. Enjoy the waterways and take a boat trip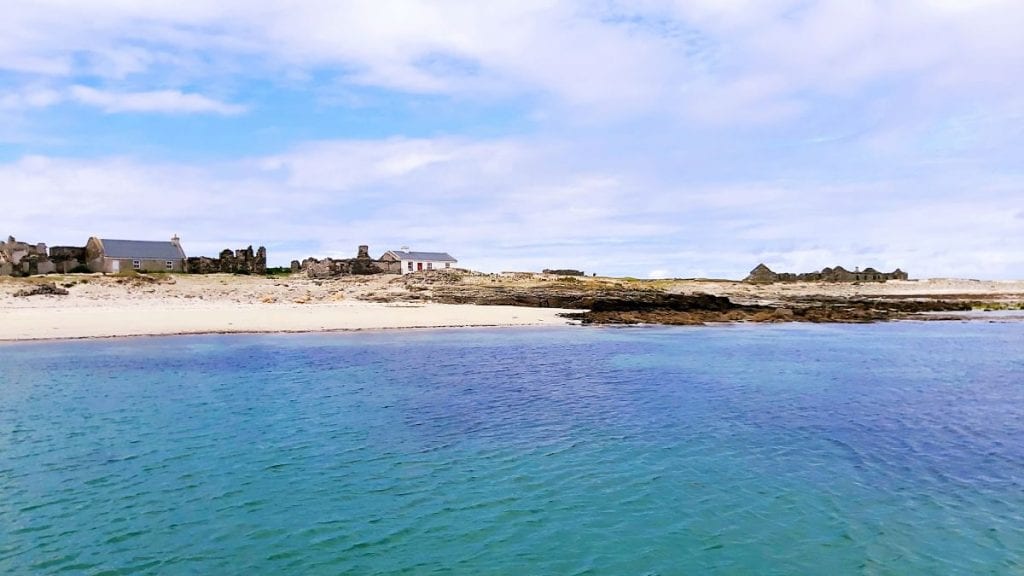 From wildlife trips, to sea angling trips to a memorable days out on the spectacular Inishkea Islands, a number of options are based out of Blacksod on the Mullet Peninsula, Co. Mayo. The remote Inishkea Islands off the west coast of the Mullet Peninsula also make for a truly amazing day out. These abandoned islands are home to sandy dunes, fertile grassy machair, long silver strands and clear turquoise waters. Please view our Inishkea Islands page for more information on these absolutely stunning islands and for details of all you need to know before going.
The following recommended tour companies operate some amazing tours:
Geraghty Charters :
Mobile: +353 (0)86 2695851 | Email: [email protected] | Website: www.geraghtycharters.com
Blacksod Sea Safari :
Mobile: +353 (0)83 0263100 Email: [email protected] or [email protected] | Website: www.blacksodseasafari.ie
Belmullet Boat Charters :
Mobile: +353 (0) 86 83 65983 Email: [email protected] | Website: belmulletboatcharters.wordpress.com
---
10. Family foraging is fun!
Denis at Wild Atlantic Cultural Tours runs regular foraging tours from Killala, Co. Mayo.
It's a perfect family staycation activity, with miles of beaches to explore, fish to be spotted in clear crystal pools, sea plans to learn about, flora and fauna to marvel at you might also collect some cockles and mussels for dinner!
Suitable for all ages – bring wellies and suitable outdoor clothing.
---
11. Make a splash at Waterpoint Aqua Park, Enniscrone, Sligo
Again, located just down the road from Ballina, facilities at Waterpoint include a 65-metre flume water slide and a children's pool, all of which make it the ideal fun destination for adults and children alike on a rainy day.
Waterpoint also includes:
Health suite comprising of a jacuzzi, sauna and steam room
State of the art gym and refreshment area
Professional Personal Trainers.
Comprehensive timetable of fitness classes
Water Inflatable for children and parties
New play area and climbing wall perfect for parties!
---
As well as Waterpoint, Ballina town also has a super swimming pool which offers public swim sessions throughout the summer and indeed all year around. For full details of schedule and timetables please visit Mayo.ie here:
---
---
I know we said Eleven great things to do with children, but we actually have Thirteen!!! (and if we are honest, the list could go on, and on, and on……..)
12. Fun and education for all of the family
For those looking for something different to entertain the family on a day out, Mayo never disappoints. From Céide Fields to the Wild Nephin National Park and Ballycroy Visitor Centre as well as many more there is something for all ages.
Céide Fields Visitor Centre
A little education as part of your family holiday in Mayo is easily covered with a trip to the superb, interactive and newly reopened Céide Fields. You can step back in time at the visitor centre, soak up the scenery from the panoramic viewing platform and you can also head off on a guided tour.
Information in the visitor centre is really well presented inside the building, with every age catered for and younger visitors encouraged to participated with presentations to suit. The new immersive room is also a very big hit with children and adults alike. Visit their website for all you need to know about the amazing Céide Fields.
(If you and your family have the time, if you check out the Michael Davitt Museum in Straide, Foxford, you will even receive a free pass to the Céide Fields! A lovely collaboration, and getting in two great places at the same time!
Ballycroy Visitor Centre and Wild Nephin National Park
Ballycroy Visitor Centre and Wild Nephin National Park are an amazing place to visit. The Ballycroy Visitor Centre is the main interpretative centre for Wild Nephin National Park, Ireland's sixth National Park. As well as this, the visitor Centre houses a free exhibition on the National Park, a café and art gallery, and a 2km nature trail. A 10 minute drive south of the Visitor Centre is the 2km Claggan Mountain coastal trail. Also, the main looped walkways in the National Park are accessed on the eastern side of the National Park at the Letterkeen Trailhead (45 minutes drive from the Visitor Centre) which is north of Newport accessed via the Nephin Drive. Visit: https://www.nationalparks.ie/wild-nephin/ for all you need to know.
13. Hit the beach…..and there really are some beautiful beaches here!
The beaches in North Mayo really are second to none. Whether you are looking for beautiful clean white sands for a leisurely picnic, a refreshing swim, fun with the family, a refreshing walk or an afternoon surf, the area's unique and tranquil beaches won't disappoint you. And sometimes, you'll even have them all to yourself!
Check out our guide to eight of the best beaches in North Mayo (and one next door!)
This is just a blog post with a sample of some of the great things to do with children in North Mayo. Feel free to message us and let us know your recommendations!
You can reach us at [email protected].